Greetings my fellow Archons!
I've recently noticed people on the Forums complaining that they cannot earn Drachmas. What they mean to say is that they don't know how to earn Drachmas. I have written this guide to answer exactly this question. Below I have explained in detail exactly how you can earn from 3,000 - 5,000 Drachmas every 2 weeks and become one of the top raiders in all of Hellas.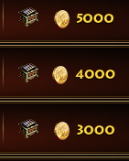 Here's how:
Keep a long list of bot/inactive Cities that you know are going to turn out 100,000 Resources in every Raid
Remember that the best Units to use are Cavalry Units. Here's a simple, easy to remember breakdown: Marauders > Carthaginian > Macedonian > Agemas
You'll need 75 Agemas, 80 Macedonians, 125 Carthaginians, or 125+ Marauders to carry 100 thousand Resources
Have the patience and cunning necessary to avoid bot defensive traps
Don't raid for less than 100,000 Resources. It's simply not worth it
Don't waste valuable raids on raiding an enemy City that has attacked you. You have a mission. Don't get sidetracked. You'll get your revenge eventually
In addition to being the Lord's day, Sunday is also the best day to raid!
Use all 10 of your raids on Sunday for Cities that are at least 24 hours away, ensuring that they hit their intended targets on Monday. Since the game resets on Monday, this means that you will have an additional 10 raids available while your previous 10 raiding parties are still in transit. This will allow you to get double the Resources and jump out to an immediate lead over your competition.
Stay focused on the galley trick
We all know that it's possible to raid around 7 million Resources before the game resets on Monday, but you can also 'hack' the timeframe a bit. By saying hack, I mean it's possible to take advantage of the game reset. This is not illegal or "cheating", it's just a simple game trick.
In Summary: On Sunday send 10 raids to the furthest possible City, one that of course can grant you 100,000 Resources, and make sure that your raiding party will arrive only after the game resets on Monday. To complete a raid to a City that is less than 24 hours away, add a Swordsman to the raiding party in order to make the whole party slower.
And voila! When the game resets on Monday, you will already have 1 million Resources raided and another 10 raids available, which will place you 1 million Resources ahead of everyone for that week. Even better, instead of having 1 million Resources by the end of the day on Monday you will have 2 million!
Pulling off such a move will be sure to give your opponents a real kick in the head!
Sincerely yours,
Hackerista
This article was written by player Hackerista, who granted permission for it to be posted on Plarium.com. Any thoughts or views expressed herein are the player's own, and do not necessarily reflect the views of Plarium Global.