The Chronicle continues to report from the front lines at Pantheon #68 where a fight for survival is underway. The Storm Chasers repel enemy after enemy and have defeated many, but a new foe has risen: will they be able to stop them or finally be broken?
The Storm Gathers Wind
The Chronicle returns to last week's story of survival. We continue our report from the Storm Chasers garrison, where the battle for Pantheon #68 has showed no signs of halting.
The warriors here are tired and weary. Their leadership and the proud men who call this land home have fought on, constantly besieged and threatened. The attacks are almost constant, the pounding on the gate halts for moments at best and continues on through the darkness of the night at the worst of times.
Attempting to save their men and their forces, the leadership of the Storm Chasers has reached out to a number of Coalitions that have been assaulting their bastion of power, including the War on 300 and Athena's Honor Guard.
Having reached a peace term and agreeing that the continued attacks on one another are pointless, The Storm Chasers, the War on 300 and Athena's Honor Guard have entered into a cease fire and state of peace. The declaration of which was quickly made known to the rank and file troops.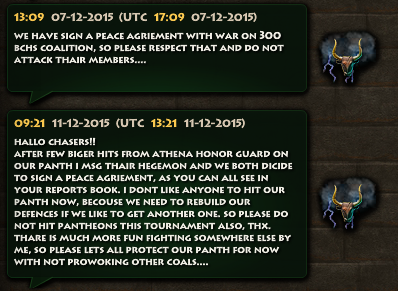 Although this bought the Storm Chasers some time, there were still wolves swarming at the door. The attacks continued, but none more violent than that of Vis Et Virtus, a coalition that has vowed to wipe the Storm Chasers off of the map.
Once again, the leadership of SC attempted to reach terms, yet Virtus would have no part of it. The attacks only escalated in severity and violence. Time and time again, the armies of Vis Et Virtus pounded on the gates of SC, only to repelled as so many more before them have been.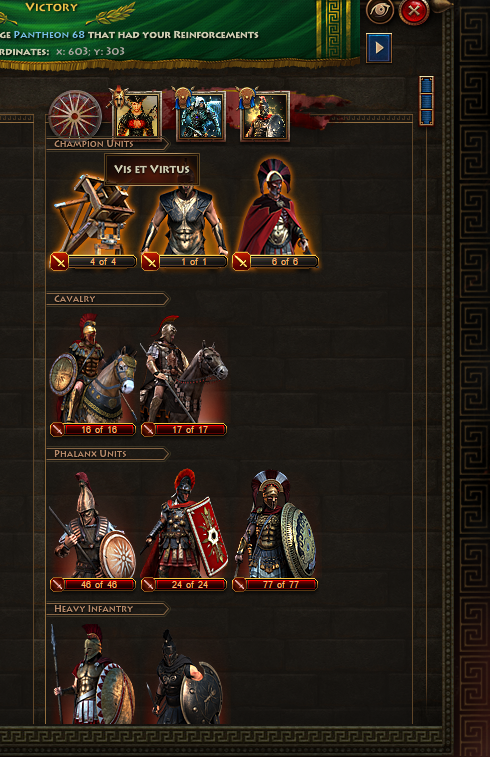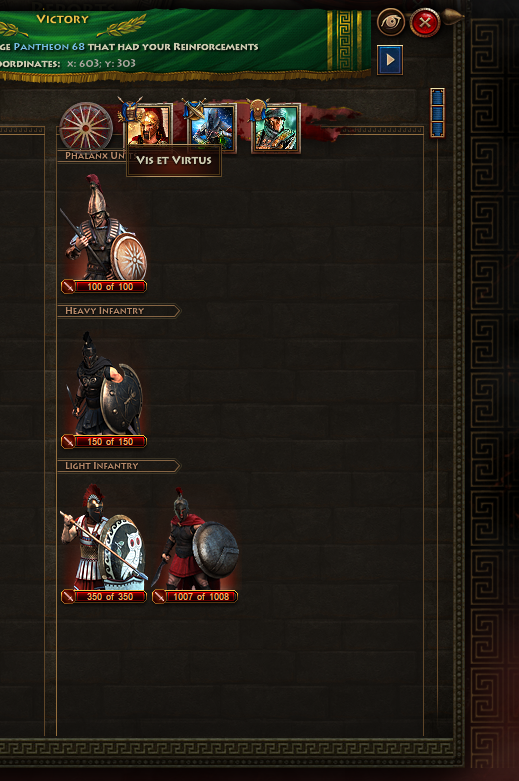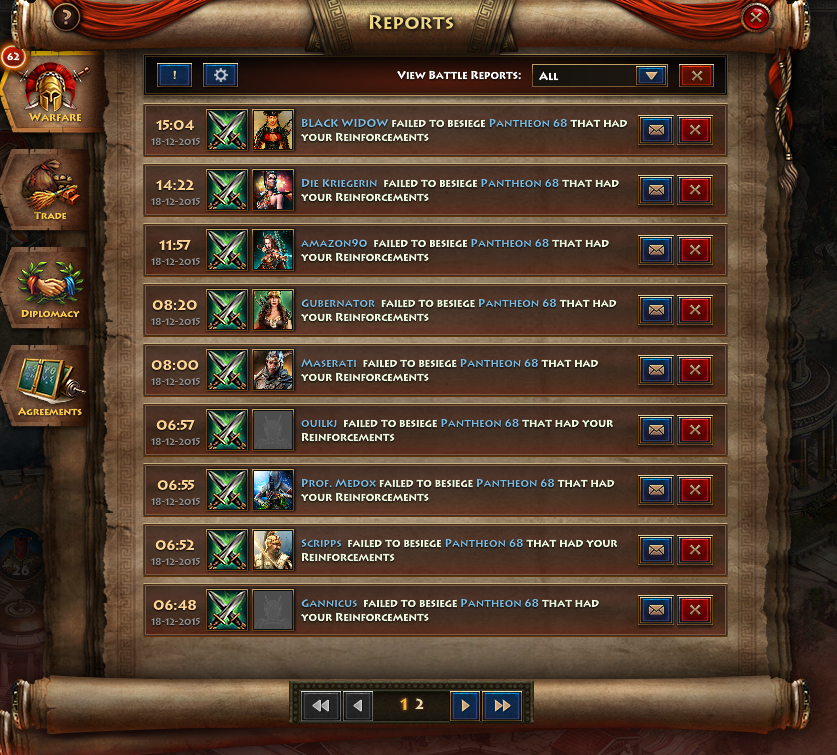 Unwilling to stand for this any longer, the Marshal of the Storm Chasers took action, calling on his loyal men and women and declaring war, as no other option was available.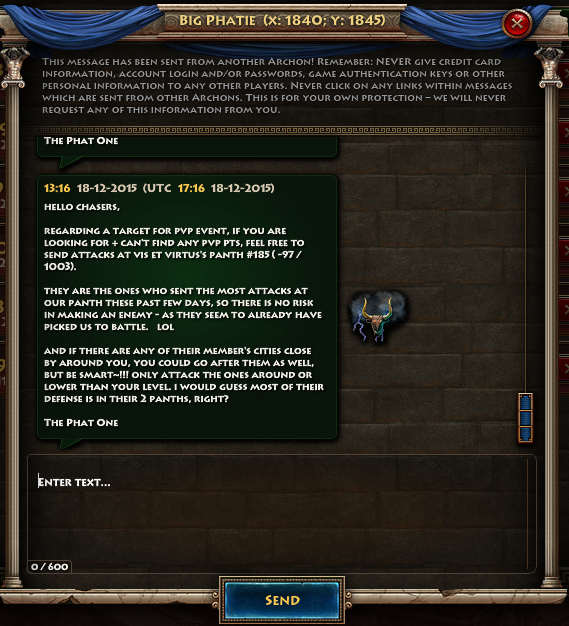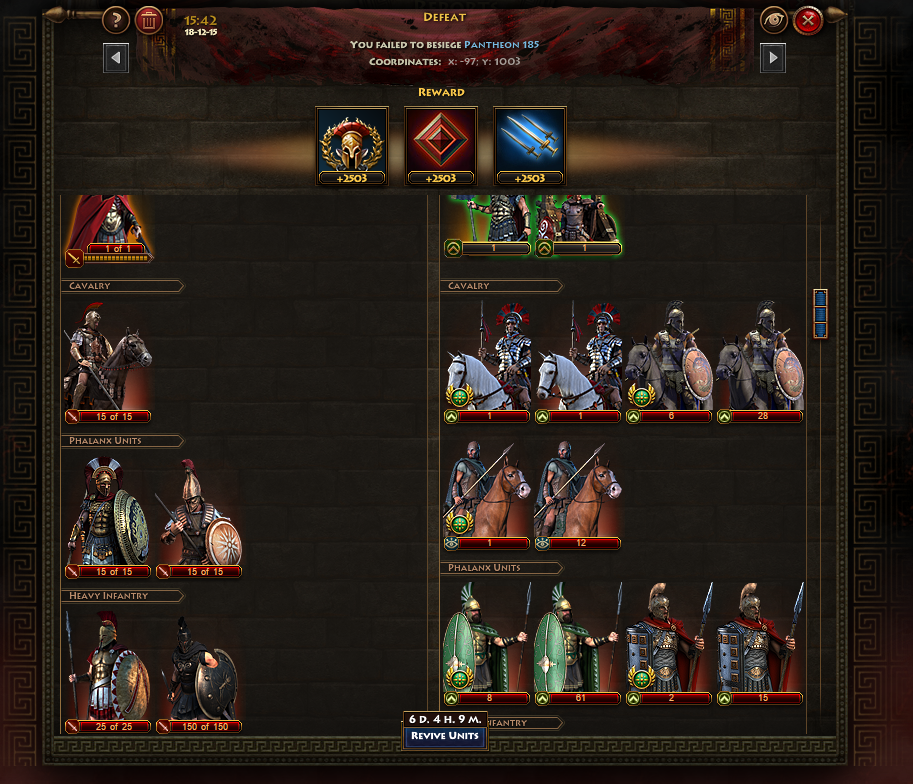 The attack shown above was just one of many that the soldiers of SC began sharing amongst one another, gaining them a much needed boost to morale and their spirits.
At this very moment, the attacks from both sides continue on and the death tolls continue to mount. When sanity will return to these sides is unknown, but an end appears to be nowhere in sight. For now, it seems neither will be happy until the other is shattered, and the war goes on.
Play Sparta: War of Empires now!
This article was written by a player who granted permission for it to be posted on Plarium.com. Any thoughts or views expressed herein are the player's own, and do not necessarily reflect the views of Plarium Global.