Coalitions suffer many hardships within this realm and experience many growing pains along the way. This is the story of the Stoics and their growth in the face of adversity.
Coalitions grow, coalitions falter, and some, if lucky enough, are reborn again after an unfortunate defeat.
This is the story of the Stoics, a coalition that is struggling in these dark times, and despite many setbacks, continues to prosper and grow.
Coming together is a vital aspect of any coalition in this realm; all of us must do so if we wish to survive against the vile forces of Xerxes and our fellow man. One of the best ways to do this is simply by increasing the number of members your coalition can hold.
Strength is in numbers--the Stoics, knowing this set out to increase their maximum member capacity, but first they would need a vast amount of resources to do so.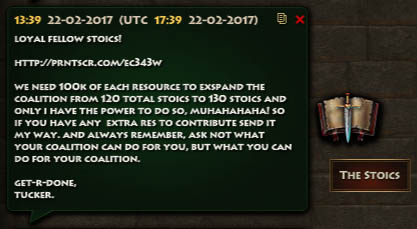 The response was strong and swift. Members from the rank and file joined together and pooled their resources for the great effort. Progress was good, but still more was needed.

In one final effort, the leadership called on their members and asked them to dig deep. Gathering the last vital resources needed in the effort, the goal was finally reached, allowing a new wave of forces to take up arms and put on the Stoics banner.
Still, in this realm, the competition for new members is stiff and many times troops are hard to come by. One method that many coalitions entertain is the idea of a merger, where two coalitions can become one and combine their forces, ultimately becoming a much stronger force in the end.
This is exactly what the Stoics had in mind to fill the last remaining spots they had available.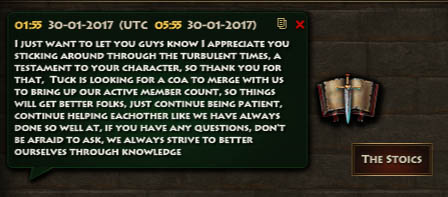 Even though things were progressing excellently, trouble, as it often does, was brewing behind the scenes. Though they had taken many steps forward, the Stoics now suffered a step back. One of their leaders decided it was best if they parted ways and embarked out on a new path.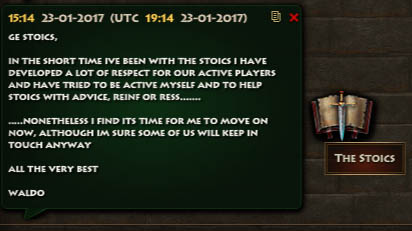 But this was ultimately only a minor setback, and already the Stoics were looking to the future. But first, they had to train and debrief their new soldiers, getting them battle-hardened and ready for the harsh reality that they would soon face out on the battlefield.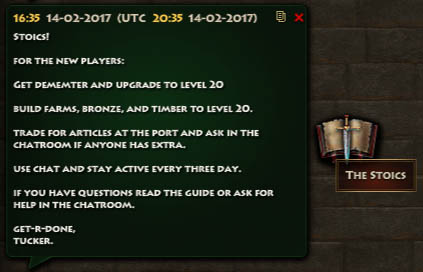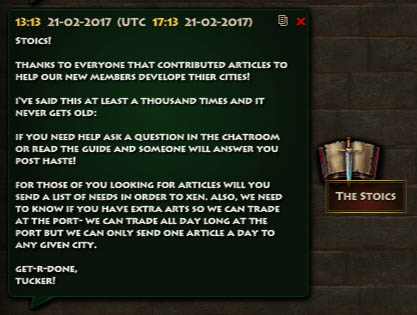 Work goes on, as there is still much more to do in regards to this blossoming coalition, but we have no doubt in our minds that the future is bright for the Stoics, both the old guard and their new comrades. To them, we wish the best of luck in these turbulent times.
This article was written by a player who granted permission for it to be posted on Plarium.com. Any thoughts or views expressed herein are the player's own, and do not necessarily reflect the views of Plarium Global