In Zandia, appearances matter. Soldiers Inc. offers players the ability to trick out their Base and boost their defensive statistics by selecting different Base Layouts.
Base Layouts are preset skins that can be used to customize the appearance of your Base on the game map and grant cumulative defensive bonuses to units protecting your Base.
The standard Base Layout will automatically change as you progress through the game, but you may also purchase more advanced Layouts at the Black Market. Use this chart by our Soldiers Inc. Expert, Jeff Maginniss, to learn how to pick the Base Layout that's best for you.
Soldiers Inc. Base Layout Skins
What are Base Layouts?
From the map view, other players can see and interact with your base. As you progress in level, your base's appearance will change in size and shape to indicate your growing strength and reach.
Your base unlocks the final layout change (viewable from the map) once you reach Level 50. Alternatively, you may purchase a Premium Base Layout from the Black Market. Premium layouts come with a larger, more detailed map appearance, as well as animations and an increased Base Defense Bonus.
New Players can enjoy ICPMC Protection from attacks for the first 72 hours up to level 30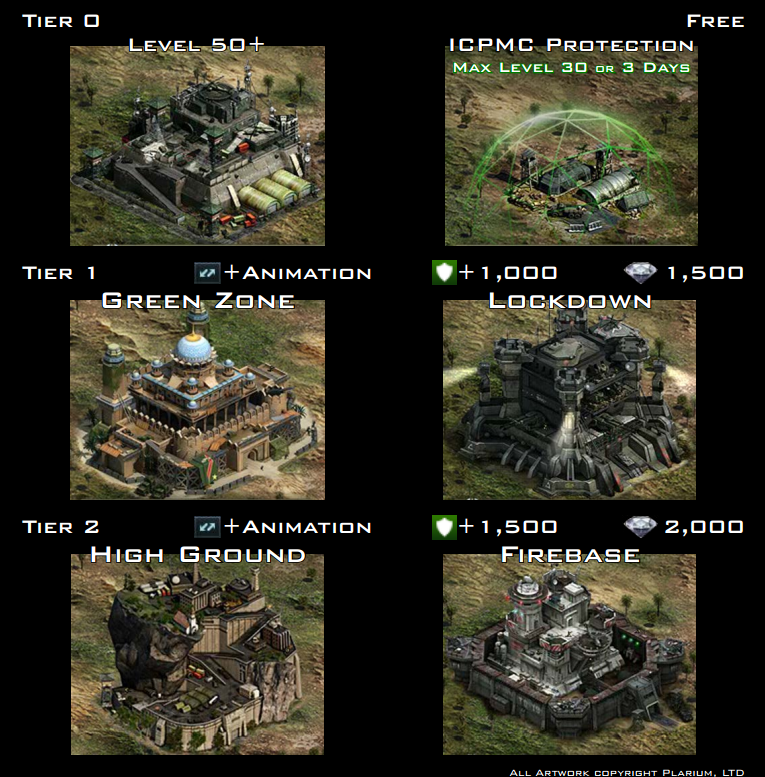 This article was written by Jeff Maginniss, who granted permission for it to be posted on Plarium.com. Any thoughts or views expressed herein are the player's own, and do not necessarily reflect the views of Plarium Global.