Hear ye, hear ye! My Lords and Ladies, or shall I say me 'ol scallywags on this rotten barge on t' high seas! Hark and ye shall hear what I've to say or else you'll be walking t' plank on this tempestuous night….
The crashin' waves will be beatin' t' sides of this here vessel, bashin' against t' barnacle-covered rocks, and t' midnight sky will be swirlin' with t' vilest, most wretched sorcery. But hark! 'Tis but one star…an angelic, heavenly body that shall be seen way off into t' distance. Be warned ye' old seadogs! This be not your guiding light, but it be t' cursed blue star … an ominous presence on this 'ere eve…
There be a Cap'n on board this 'ere galley and he be t' Leader for the STAR PIRATES – Leonard Yampolsky. This band of sea dogs are t' first Brotherhood to claim 8 Gold Medallions with their very own customized logo. A fine achievement for such a lowly lot'a pirates!
Captain Anne:
'Tis well an' truly an honor to be 'ere with the Captain of the '=STAR PIRATES='. Being t' first Brotherhood to snag 8 Golden Medallions is quite the 'chievement. With 'yer own Brotherhood Flag, ye be sailing t' high seas in grand style. Captain Leonard – how does it feel me hearty?
Leonard Yampolsky:
Arrr! First off me thanks fer yer recognition of our achievements. We braved t' high seas, on cold and treacherous nights fer these fine rewards. Gold medallions are prized among us buccaneers and 'tis good that our hard work 'twas not fer nought. But easy,' twas not. The Brotherhood trained hard t' score these 'ere victories and our 8 medallions are proof of that. We could not have achieved so much were't not for t' game developers who put this all together. They burned t' candle at both ends 'till it were done… helping us create our very own Brotherhood Flag. We are in their debt… and as you all know… a pirate's word be his bond… arr!!
Captain Anne:
'Tis good that t' game has captivated your attention. We like to see that. But alas, we best be moving it along … to more urgent matters Capt'n Leonard. We would very much like t' know which of t' achievements were most memorable for you and t' Brotherhood? Fer a Cap'n of such tremendous talent, 't boggles t' mind why it 'twas so gruelling. Pray tell: How did yer scallywags beat t' odds and claim such a prestigious Medallion in t' rough'est o' seas?
Leonard Yampolsky:
Ye be correct Captain Anne! The medallions 'r many in t' Seven Seas. There be many 'o ways to earn such a coveted bounty. Well, let's be frank – this be a strategic game 'o deep thought and methodical planning. We all know t' Brotherhood must do what fits their style o' play. Thar is no best way to get things done… 't be up to each Brotherhood to decide. But alas! Thar be one particular Medallion that o' t' Sea Wolves… this 'ere prized treasure can only be gotten in a special way. Ya know what that 'ere be? Fightin' tooth and nail, hooked hand and cutlass to t' death. For my team, that 'ere was t' most vicious fightin' ever. Time, energy and treasure 'twas sacrificed by t' Brotherhood.
Captain Anne:
'Tis must be said Cap'n Leonard – ye be a fearless warrior of t' high seas… t' Seven Seas in fact! We sure would love t' hear more 'bout you. What melodies do you like t' listen to while you be bobbin' and weavin' on t' swells? What sports do yer dabble in when yer off deck? And when yer not at t' helm, which shows catch yer attention?
Leonard Yampolsky:
Them be easy questions t' answer. In my home 'twere a home of melodies … music to charm t' gold out of a pirate's teeth 'twas. We appreciated fine music in my home. For me own sake, Classical music is soothing 'n upliftin'. But I do 'njoy 80s 'n 90s tunes too. But alas! Nothin' beats t' genius of Russian Guitarist Vladimir Vysotsky….When I sail t' Seven Seas, t' music 'o all t' world's languages are enjoyed! I love French, Russian, English 'n Italian melodies…. But television is out of t' question… no time fer that. My time is spent with me Crew… otherwise it be spent readin' or guiding me scallywag deck hands on fantastic adventures!
Captain Anne:
Yer' dedication to t' game is heartwarmin'…even fer a pirate Cap'n like meself! Arr! My next question is one that our mateys out thar would love t' know: What ill wind brought ye to Pirates: Tides of Fortune? This we 'av to know!
Leonard Yampolsky:
That thar be a curious ol' question Cap'n Anne! Personally, I became a huge fan o' t' game by chance alone! I was scouring t' pages o' Facebook one fine day and alas…an ad fer ye' game popped up an' caught me good eye! I have a fascination fer Pirates, t' high seas an' t' mystery o' these 'ere seadogs. The legend be larger than life, ye see! I click'd t' ad and arr – been an avid player ever since.
Captain Anne:
T'is ne'er a boring vocation living a life on the Seven Seas… Wild adventures 'n mysterious quests await thee. Cap'n Leonard – tell your mateys 'ere how ye felt when ye started playin' Pirates: Tides of Fortune?
Leonard Yampolsky:
Arr! Cap'n Anne ye always pick t' tough'st questions to ask. One fine day, I logg'd on to t' game and t'was then that so many diff'rent impressions struck me. Luck was gustin' my way o'er t' first coupla days, but I soon realized that strategy was required t' sustain my successes. Me very survival depended on't. Soon I began researching all sorts of Brotherhoods to find out what distinguishes one from t' next. But hark! As an ambitious sailor, me also want'd to know how t' Cap'ns became so mighty. So I search'd high and low… finally found t' Star Pirates Brotherhood an' twisted their arm to let me on board.
'Twas but a few days later that I realized that I had made t' right decision! It was a bloody battle that saw a Cap'n 40 levels higher than me wage an attack. Hark! Our fearless leader Dmitry Vinnikov was having non'o'it and dispatched a mighty set of reinforcements to safeguard me Haven. You would not believe 't…Dark Corsairs as far as they good eye could see were swarming me Haven to protect me from t' enemy attack. Me Brotherhood had me back, and I was blown away. On that thar very day, I pledged my allegiance to t' Brotherhood. I was also mentored by two o' t' very best …making my skills as a season'd Cap'n of the High Seas that much more fearsome. I learn'd t' very best game strategies that I take with me into battle every time.
Captain Anne:
Arr! Ye sure know how'ta pick t' right Brotherhood Cap'n Leonard! On t' subject of enemies – with t' exception of King Carlos – what would ye like to share with fellow scallywags from Pirates: Tides of Fortune about t' worst of t' worst. I'm talkin' bout t' bottom of t' barrel enemies, t'muck of t' high seas? How did ye give them a solid beatin'? How did ye defeat these vile, wretched enemies?
Leonard Yampolsky:
Here is t' thing Cap'n Anne! Ye would not believe it if I told ye straight in t' face…our worst enemies are actually our very best allies nowadays. We're mateys on t' Seven Seas. Many a battle-hardened Cap'n has joined us after being a formidable foe. We take on friends and foes, and sure enough, we turn them to t' Brotherhood where they fit right in. Mutual respect is t' most important component of waging a war against t' enemy. Ne'er underestimate t' enemy in any way. This we 'ave learned over many a hard-fought battle. We place tremendous value on old enemies, and we have plenty of respect for 'em when they become our mateys.
Captain Anne:
That thar be a strange 'ol development….a frenemy! Arr! Turning sabre-rattling enemies into swashbuckling mateys is a formidable challenge. Kudos! The Seven Seas are no place for t' weak. Ye have done well Cap'n Leonard. We speak for all of our members when we say yer profile picture is instantly recognizable and unique. Which flick is it from? We'd love t' know more about why ye selected it and when ye selected it? Leave no stone unturned Leonard!
Leonard Yampolsky:
Correct ya 're! That thar avatar be a screen shot from me all-time fav' Russian flick – The Three Musketeers. Take a closer look…you'll notice that picture be of o' d'Artagnan. After having read t' book an' seen t' movie, I 'av t' say that d'Artaganan is my fave character. Back in me childhood years, my blessed father introduced me to Alexandre Dumas' novels and I have treasured these memories ever since.
Was not too long after joining Star Pirates that me realized I had selected t' very best avatar. We was like a Brotherhood of Musketeers… I got that impression from Day One. Ya know what it 'twas Cap'n Anne: The All Fer One creed. That be what hook'd me with Star Pirates and d'Artagnan was a clear choice.
Captain Anne:
No need to convince me 'bout what makes Brotherhoods tick… it's that All Fer One approach that does it. But tell us Cap'n Leonard – have ye e'er been selected to join a Brotherhood other than '=STAR PIRATES='? We sure would love't know. I'm all ears…
Leonard Yampolsky:
…Should I be tellin' ye this? I'm not too sure, but aye I was in another Brotherhood. But alas, 'twas back when I first joined t' game. 'twas a short stint fer me…maybe two days at most. T' captains were good lads, but they didn't have t' most important element of all – proper communication. That's precisely what a Brotherhood needs Cap'n Anne. Failure is guaranteed when ye can't communicate effectively. Pirates: Tides of Fortune is a world-class game, and I'm willin' to wager me Rum on t' fact that scallywags like me across t' Seven Seas will tell ye that it's all about t' interpersonal relationships. That's what makes this game so incredible!
Captain Anne:
Arr! Ye Brotherhood is thick 'as thieves! A tightly-bound group Cap'n Leonard. Ye have been on a gruelling quest 'round t' Seven Seas. Ye be goin' like a typhoon on the seas. What 'r ye goals fer Pirates: Tides of Fortune? Future plans ye have? We sure would like t' know…
Leonard Yampolsky:
Ye be correct in your assertion! But I keep things simple Cap'n Anne: One goal is t' complete all Medallions to the highest possible level. But alas! There be other goals too – like seein' what the Pirates: Tides of Fortune deckhands have in store fer our sailors an' fellow pirates to take t' game to t' next level of awesome. The introduction of t' new Medallion system has improv'd the game plenty. Me and fellow Cap'ns have plenty 'o objectives to work t'wards!
Captain Anne:
'Tis great to hear of your ambitious endeavors! Ye Crew is top class Cap'n Leonard. Ye be a powerful force 'gainst your enemies. But tell us Cap'n – what is yer great'st achievement beyond Pirates: Tides of Fortune?
Leonard Yampolsky:
Was expectin' a tougher question! That thar is an easy one…me wife is t' most beautiful and wonderful thing to happen t' me! Gettin' married was no doubt my crownin' achieivement. But alas, the bounty kept on comin' since we now have a fantastic son together. A scoundrel like me ne'er thought he be so bless'd with such treasure! She is the foundation stone of me life, me family. There is no end to t' compliments I have fer her.
Captain Anne:
Two peas in a pod aye Cap'n! A Pirate needs a partner – that's fer sure. T' Seven Seas are treacherous indeed an' sailing alone is no fun. Perhaps there is something ye want to suggest to us, maybe something you want to share?
Leonard Yampolsky:
'Tis like ye read my mind Cap'n Anne! One thing I know is that players love it when we can help them implement their suggestions. As time has passed, Pirates: Tides of Fortune has become much more challengin' and there be many reasons fer that. Greenhorns be findin' it tough to learn the inner-mechanics of t' game…so this got me thinkin'. Perhaps we can compile a Focus Group made up o' senior players who truly understand the ins and outs of this 'ere game.
But more importantly, maybe senior players could interact more easily with the developers o' Pirates: Tides of Fortune. There be no better source of how well a game is received than the most loyal players. Arr! Me be thinkin' that a separate environment where advanced players provide feedback to game developers on all changes prior to being released. This 'ere would be grand for both developers an' players methinks!
Captain Anne:
Such welcome advice from ye Cap'n Leonard! Arr! Well I shall certainly see what can be done about implementin' such grand ideas. But hark… one last question: Any advice for inexperienced players about how to safely navigate the Seven Seas and achieve great success in Pirates: Tides of Fortune?
Leonard Yampolsky:
Ye know me – always ready to offer sensible advice to fellow Pirates and Captains! One thing I'll say is this: This be a game 'o strategy. It's all 'bout the numbers. If the mathematics of a decision don't add up, it's not a good decision to take. Remember ye be usin' strategy to plan yer moves. Yer fleet – and yer troops depend on you for makin' the right decision. The mathematics of yer decision must be sound. If it be disadvantageous to ye, don't make a decision.
Ships are built to be destroyed. Don't e'er forget that! But in t' game, ye be meeting many sea dogs and scoundrels – they be yer best mateys. They full'o wit and cheer; interact with 'em as much as possible. On the subject 'o Brotherhoods – don't look at Rankings – look at the Cap'n in charge. 'Tis possible that ye be playin' with that same Cap'n for many years into t' future. 'Tis a pirate's life on t' Seven Seas…. battles are blowin' yer way!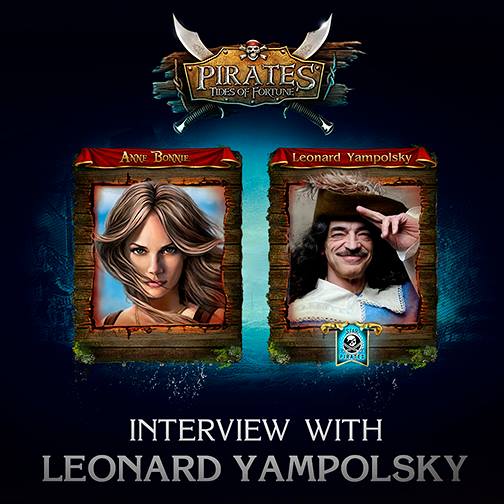 This article was written by player Leonard Yampolsky, who granted permission for it to be posted on Plarium.com. Any thoughts or views expressed herein are the player's own, and do not necessarily reflect the views of Plarium Global.