Shingardians, welcome back to this week's edition of the Nords Chronicle!
Despite the peace that was made between three of the top clans from across the land, war continues on. This was expected by the citizens of our realm and honestly, by the Chronicle as well.
This is a land that is built on war and disputes are settled predominantly in one way and one way only: through aggression and war.
This time, the dispute that arose was between two of the realm's first clans, The Storm Riders and The Drifters. The leaders of these two clans found themselves at odds and as is typical, fights began to break out between the two sides.
This could only end in one way, since both clans possessed an Obelisk, it was only a matter of time before one side struck and attempted to wipe the other side from the map.
Striking first was Drifters, with the help of Clan Malice, who sent in a strong preliminary attack lead by Scorpdog. The target, Obelisk 9, is the sole seat of power held by Storm Riders and one that gained them much influence amongst their peers.
The Chronicle was able to obtain pictures of both the preliminary attack sent by Malice's Scorpdog and then the finishing blow sent by Rakrakia of Drifters. These images are presented below: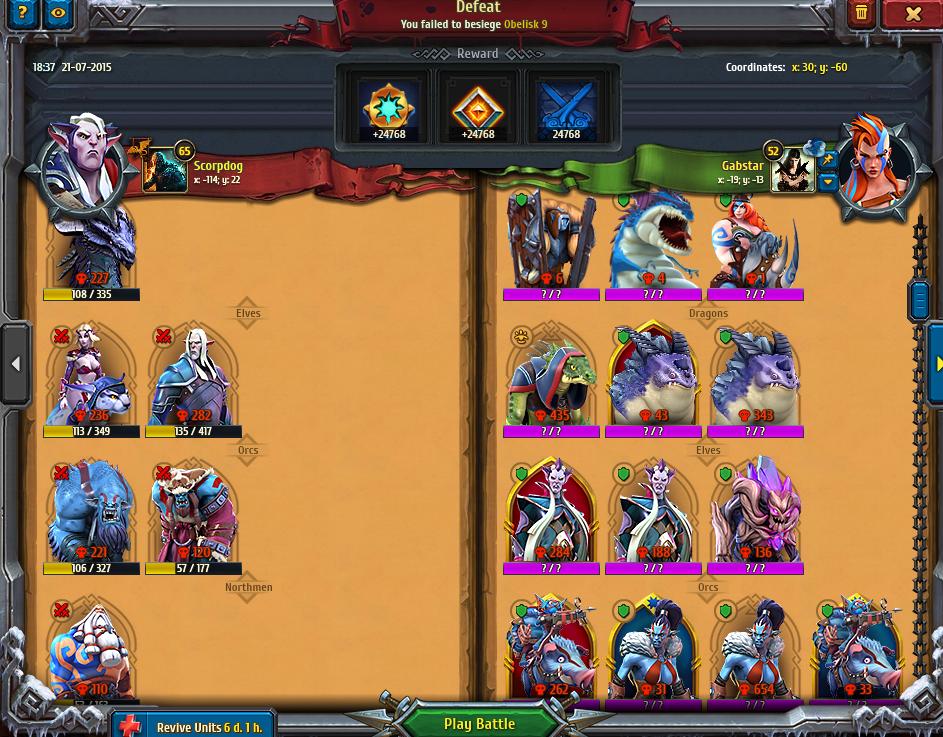 As can be seen from the images presented above, Scorpdog was nearly able to take the Storm Riders' Obelisk himself and the bloodshed was severe. This unexpectedly successful raid paved the way for the following victory by the Drifters.
Rakrakia followed up with hundreds of dragons soaring above the Storm Riders' fortifications. The defenders fled the battlefield, deciding it better to avoid a further onslaught and live to fight another day.
This victory secured one more Obelisk for the Drifters clan and gained them further reputation across the land. Will this be the end of the Storm Riders after suffering another defeat?
The Chronicle thinks not. The Storm Riders consists of many noble members and possesses a strong core. They will return, that you can be sure of, and the Chronicle will be there to report. Until then citizens, be safe and stay warm.
This article was written by a player who granted permission for it to be posted on Plarium.com. Any thoughts or views expressed herein are the player's own, and do not necessarily reflect the views of Plarium Global