How to Create Magic Sign Art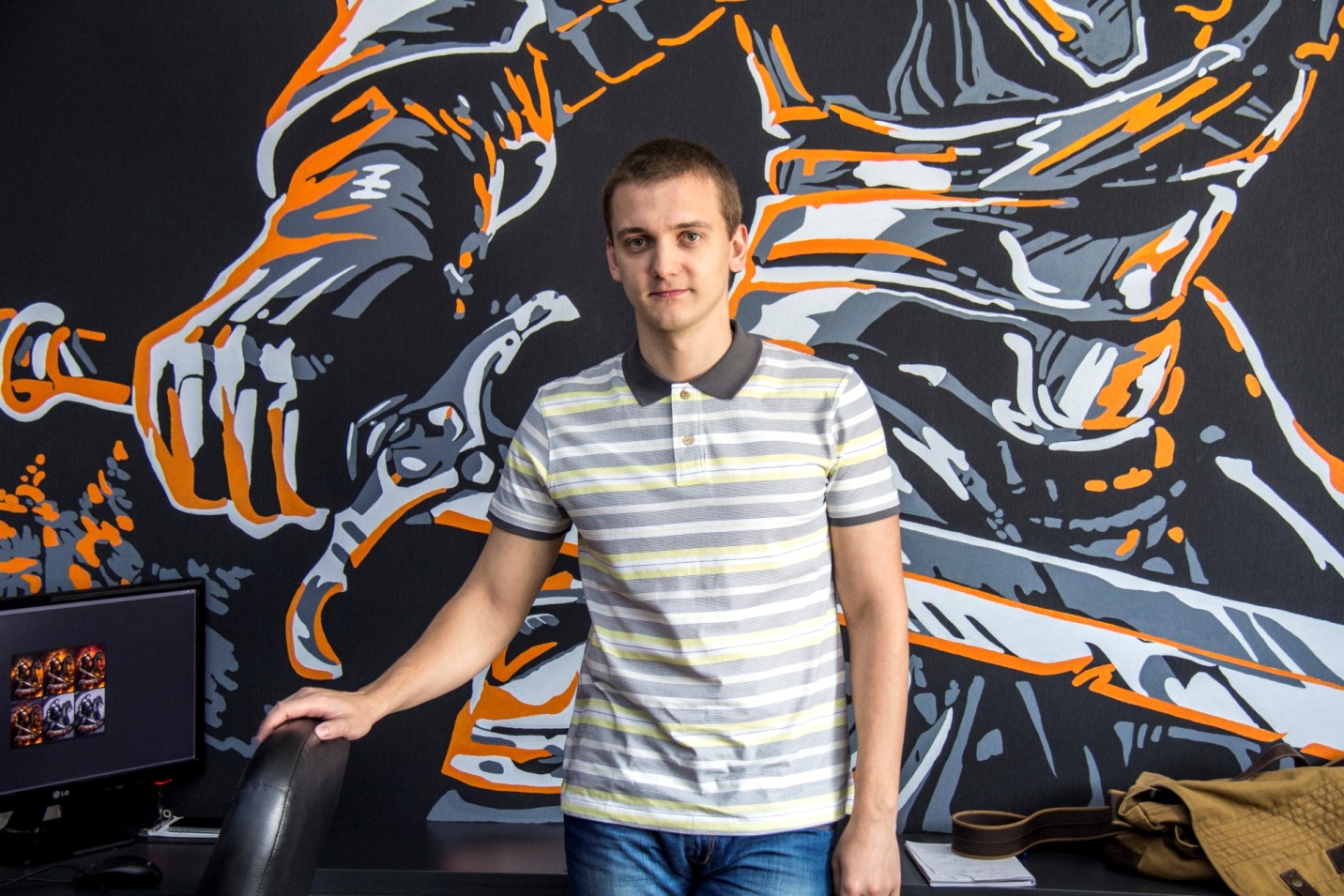 Greetings everyone! My name is Sergey Samarskiy and I'd like to talk to you about how I created the 'Magic Sign' entry. Get comfortable – this is going to be entertaining and enlightening!
The Concept
I was reading the Chronicles of Amber authored by R. Zelazny just before the Mage Tower contest. This fantasy series is a fountain of inspiration for me, notably the Merlin Cycle. I conjured up an image of a mage by utilizing a sign as the source of inspiration and power in my mind's eye.
The Quest Begins…
It doesn't matter whether your project is personal or business-oriented. In either case, you will need to find reliable references as your number one step. For me, I like to work backwards from the vision to the reality. At this point in time I was in the preproduction stage of development. My task was simple: collect as much quality artwork from the Internet as possible.
A well of inspiration for me was the famed illustrator – Michael Komarck. Feel free to take a look at his website to see exactly how inspiring a character this fellow really is. Another top-quality reference that I used was the fantasy card game – Magic the Gathering.
I kept these sources of inspiration in a separate file so that I can preserve all the necessary information. I use Photoshop with these images for easy access and referencing purposes.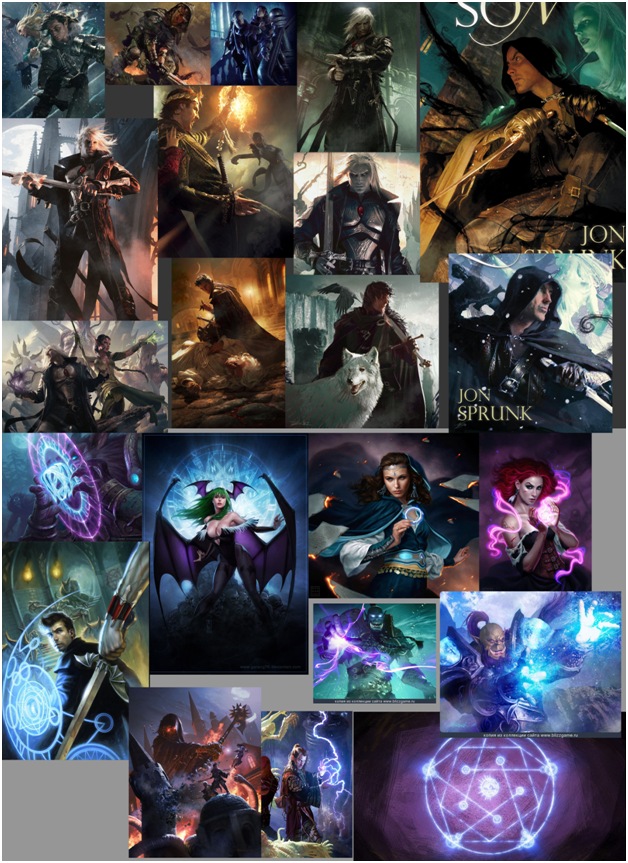 This collection of artwork is a great source of inspiration for me to choose the ideas and styles of my new projects.
Starting with sketches…
With my artwork in folders, the next step is sketching miniatures. Sketches are a terrific way for me to have a general concept of the character without too much detail. This is still in a raw form, but it serves as a reference point for all the work to follow.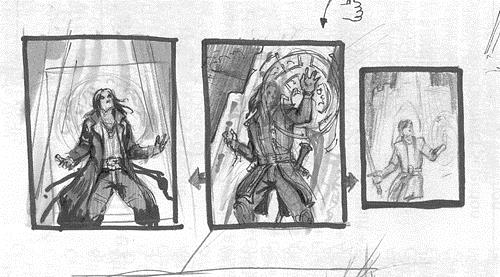 As you can see, I sketched several miniatures and then selected the one that I like the most. This will be my starting point.
Picking a Photo …
With this sketch in hand, the next piece of the puzzle is finding references for the weapons, posture, clothing and style that I am looking for. Regarding posture, I didn't use the Internet for any of my photos searches. I referenced this myself, with the help of many different photos in my inventory.
I like realism in the clothing without too much intricate detail. As my starting point, I used photographs of costumes from the Lord of the Rings, different types of medieval clothing designs and other forms of artwork.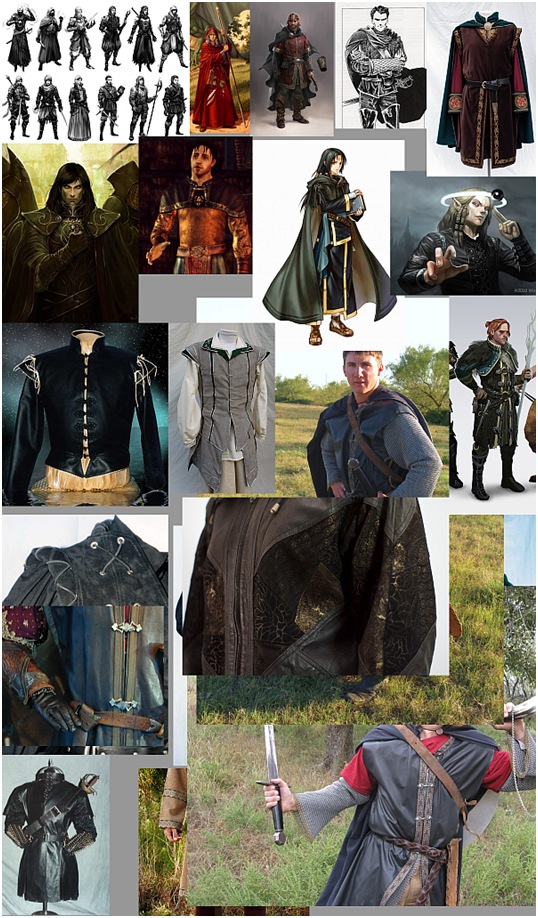 The Drawing…
Now that I had all this information at my fingertips, I began working in earnest. While looking at the posture in the photograph, I completed a rough sketch of the image.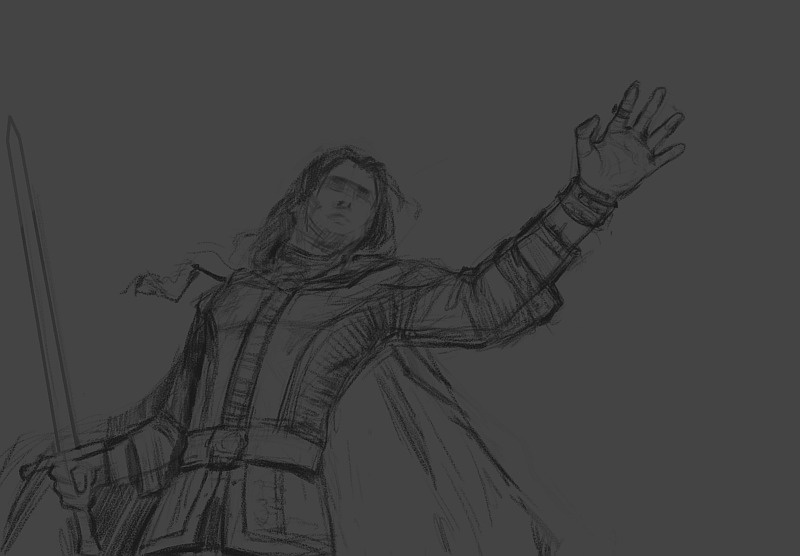 Next up, I added plenty of detail as you can see in the costume design – all in black & white.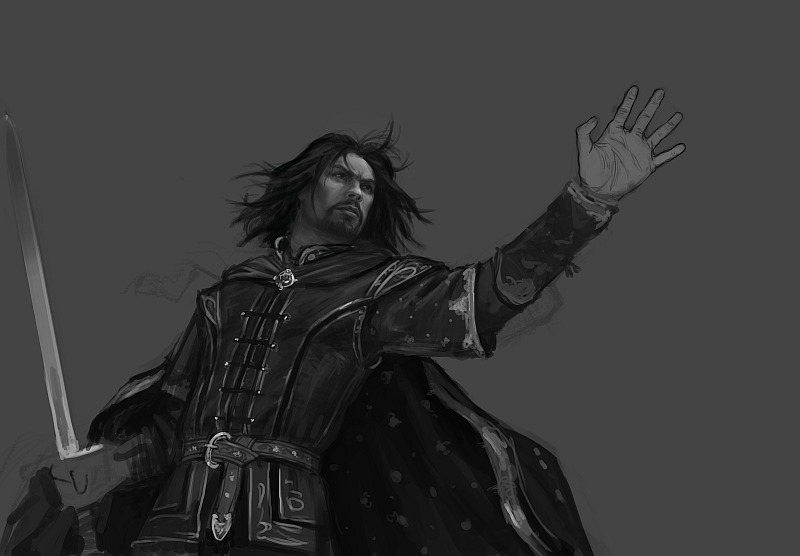 Painting comes next. My preferred choice is a simple method using layers with Overlay.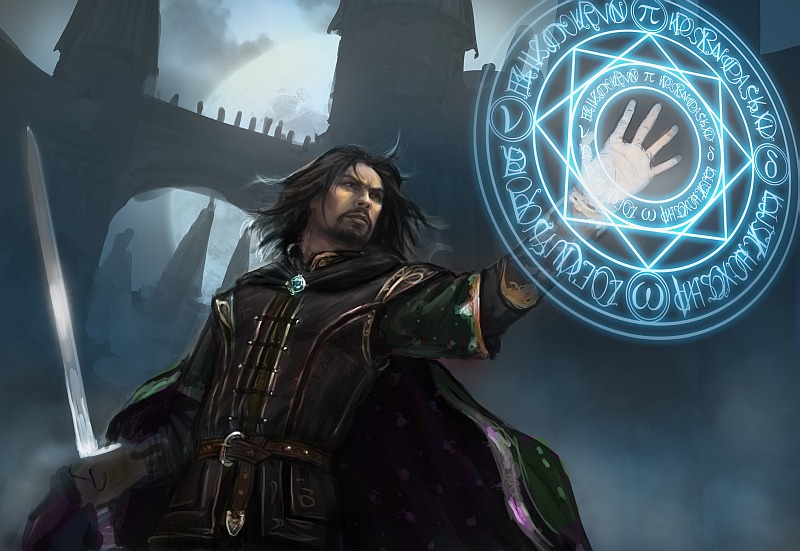 Once the right colors have been applied, I can make the necessary corrections and hone in on the details.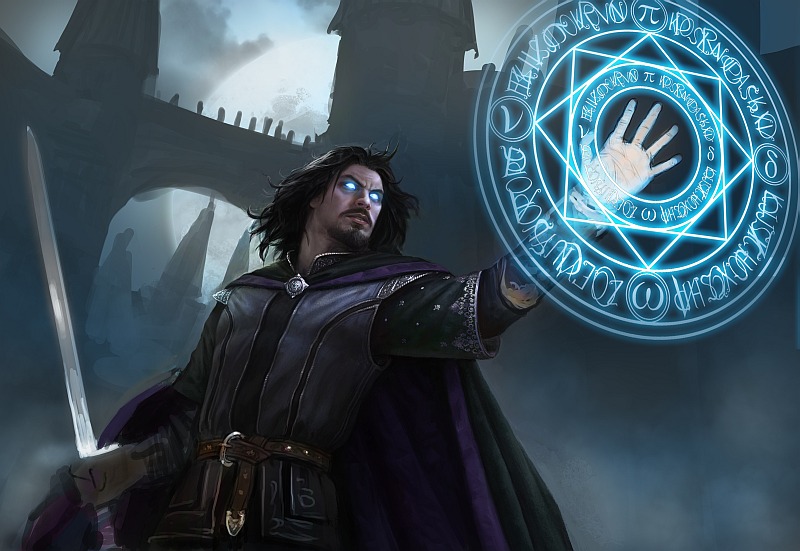 This whole process continues until I'm 100% satisfied with the end result.
The Tower
Once the mage is done, my next step is to begin work on the tower. In much the same manner as I listed above, it is important to collect as many useful references as possible to get an idea of the end picture. Since I required realism in my image, I opted for an existing structure as my point of reference.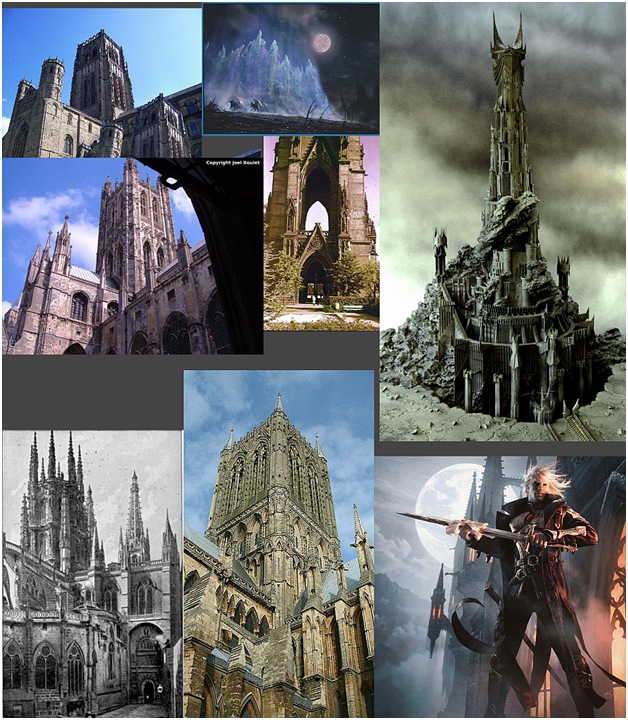 This is where it gets interesting: I modified Durham Cathedral to add a splash of fantasy. It is important to recreate the tower shape, structure and style so that it fits the requirements of the artwork.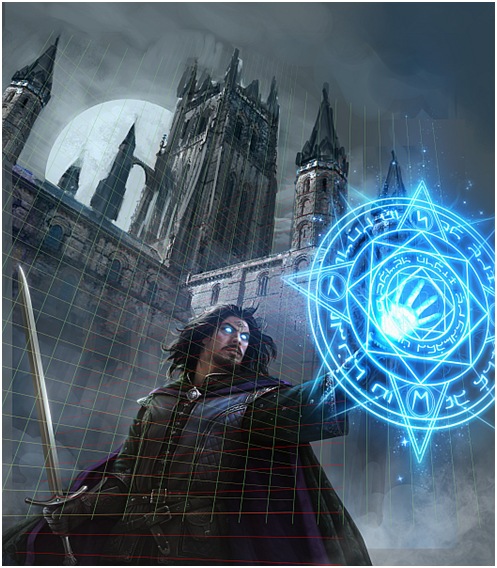 I set myself a challenge: complete the tower in one evening. Believe it or not, after 4 hours of non-stop work I was almost there.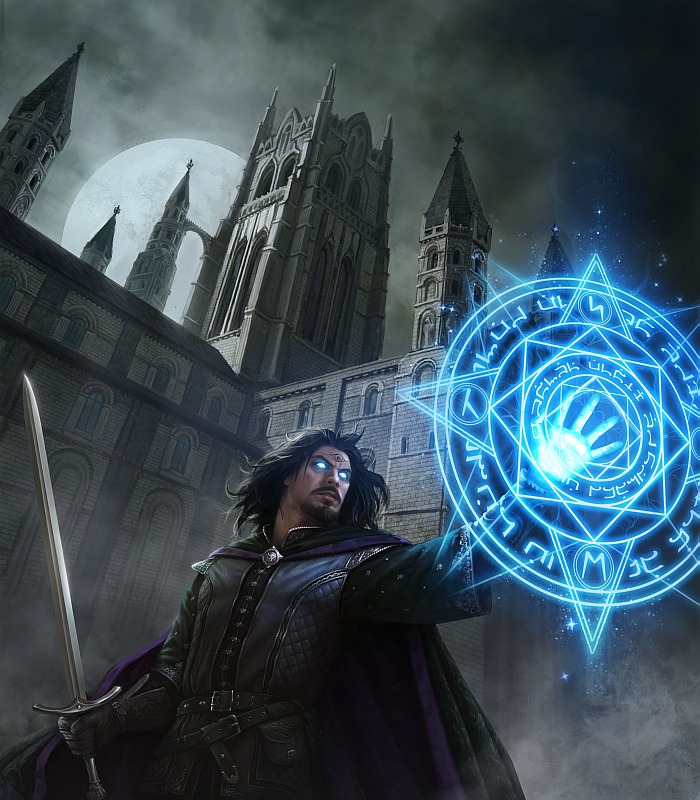 The Analysis
After some much-needed shuteye, I began analyzing the image in earnest. There were certain aspects missing in this image, and I wanted to give it an interesting edge with additional colors and special effects. I consulted with a friend of mine who suggested that I should have fireballs slamming into the tower. With that image in mind, I set out to create precisely that!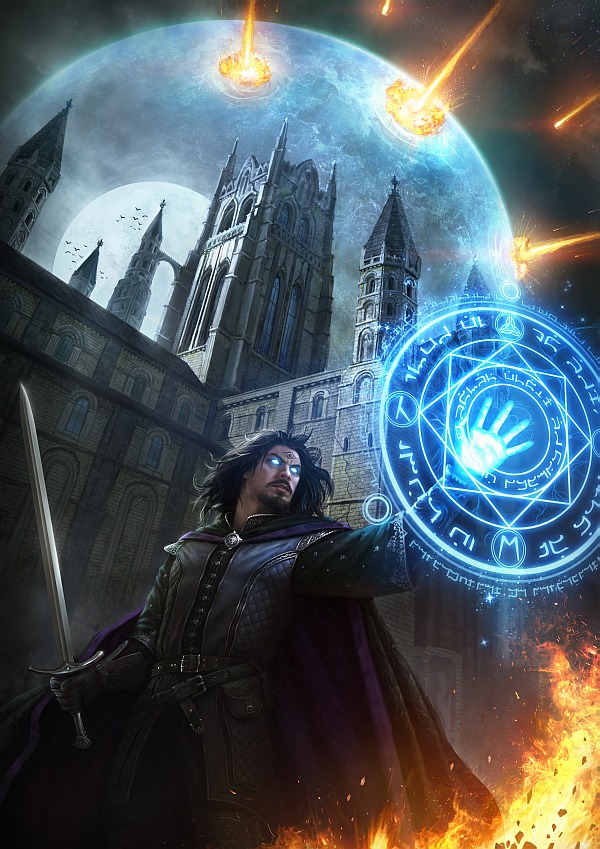 The Finishing Touches
There is lots of extra work that is required to bring the image to life. I made a series of general corrections, added intricate details and finally conjured up a high-resolution image with the following dimensions: 7069x9998. After several evenings of hard work, the end result was precisely what I was after!
The Final Word
The process of creating this fantastic Magic Sign artwork was thoroughly enjoyable. I would like to send a big thank you to the organizers of the contest and to all the participants. The artwork was superb! I would also like to pay special tribute to Georgiy Gigem Ibrailov and Mariya Ketka Trepalina for the time they devoted to helping me.
Raid: Shadow Legends
Collect 400+ Champions & Fight For Glory