The Making of Plarium's Game Trailers

Upcoming releases of video games are heavily dependent on the quality of game trailers. The level of excitement that can be generated by a video game trailer often determines how successful the upcoming release will be. It stands to reason that these trailers can easily make or break a new game. It's no easy task creating a terrific game trailer, but this is how Plarium Games does it!
In much the same way as movie previews drum up interest in upcoming movie releases, video games trailers are important marketing tools to entice players to discover more about the game. They should provide a window into the game world and also a feel of precisely what the player should expect once he/she begins playing. In a world with an overwhelming focus on social media connectivity, game trailers should be lots of fun to watch and easily shareable.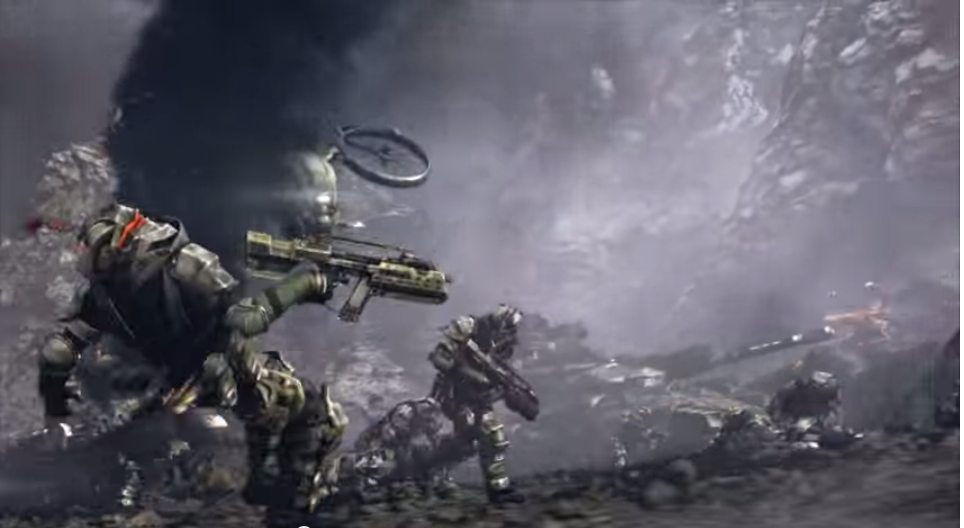 We put a lot of emphasis into game trailers here at Plarium. The good news is that they work exceptionally well for MMO hard-core browser strategy games across a wide range of social networks, mobile platforms and browsers. Get ready for our in-depth expose into how our talented Visual FX team went about creating the Total Domination Trailer, and all of the lessons that we've managed to learn during the process.
Getting the Ball Rolling
With Total Domination, one of the primary challenges we were met with when attempting to create a cinematic trailer was the lack of human resources. When we got started, we really didn't have a dedicated cinematic team, so it was necessary for us to put one together. We were in need of more VFX artists, animators and 3D artists.
Fortunately, we actually had a VFX artist from the get go, and several of our team members were recruited internally directly from our Art Department. As for the rest, we outsourced them, including music and sound – since we had no internal resources for these recruitments.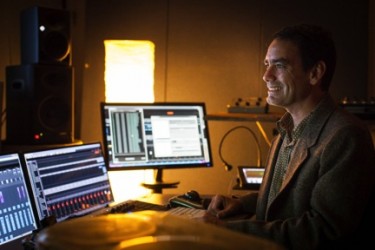 As soon as everything was in place, the team began to focus on quality. Even with limited staff, the visual FX team was not prepared to compromise on quality. We simply needed to go toe to toe with the very best of what world-class VFX teams are capable of doing.
The first step in the process is a concept outline. This typically includes the overarching goals of the video, the script and the main concept. These elements are to be put into place to ensure that the same vision is shared. Next up, a rough storyboard, replete with scenes needs to be created. During this stage of proceedings, it's important to define precisely what each shot will encompass. We define shots with animatic sketches – these are the underdeveloped fragments that mark each of the shots.
Remember that the actual animatic is still a long ways off, and it can take scores of iterations, plenty of research into shots and angles, and a highly technical synergistic approach to completing the project.
During this stage of the game, it's really important to stress that creative carte blanche needs to be fostered. Generate lots of ideas during the concept phase, and consider all viable suggestions. Our arts director and producer – Dima Volovikov - rejected outright the idea of opting for a cheaper route. In fact, he went as far as raising the bar even higher in respect of difficult shots.
Video Game Trailer Tools
Plarium animated everything in Total Domination, in 3D Max and Maya. Here's how the pipeline was distributed: most of the animation and the composition was done in Maya; the shading, lighting and VFX were done in 3D Max. We have a highly talented art department at Plarium and we've got plenty of concept artists.
Our VFX team had access to copious amounts of ready-made models and graphic content, making the process that much more efficient. Remember that some of the models we had needed extra work done on them, while others were made exclusively for cinematic purposes – the large robot and the scorpion are cases in point.
It does get kind of tricky using different software and media. As an example of this, consider Warp animation from Maya & Max and then using rendering for seamless VFXs. Throughout, the production needs to look right, and the slow-mo parts need to be rendered in 96 frames per second for correct composition. The next step involved exporting the time-warping curve to Nuke. Every crucial slow-down data was put into place for Time Warp in Nuke for this cinematic video game trailer.
As for shadows, fragmentation and silhouettes, the Plarium design team used 3D Studio Max for character splitting. For fragmentation, we used the Voronoi algorithm. Naturally, it's important to optimise the geometrics of the characters and the video, and we removed the fine details that didn't change the silhouette of the model. The demolition of the building that you can see in the video was actually made using RBD dynamics – RayFire.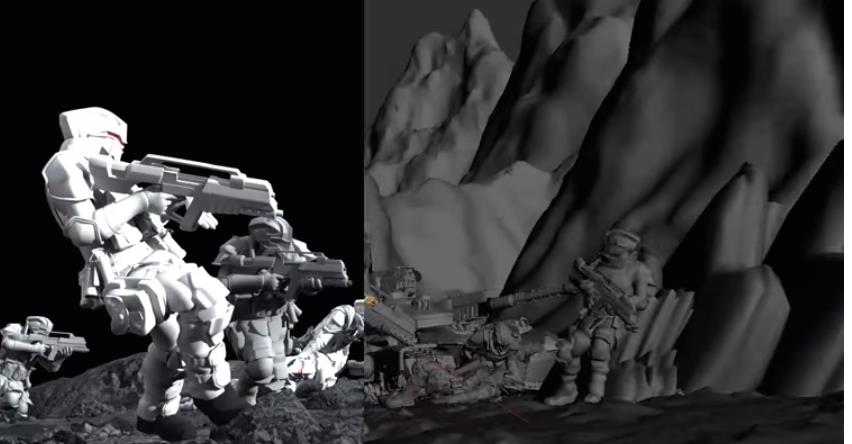 In terms of time taken, our Visual FX team required approximately 4 months to produce the Total Domination video – that excludes the 2 months spent putting a top team together. Viewed in perspective, it's important to know that if you're looking for an awesome result, you will have to work with your development teams and your marketing teams and start procuring the assets that are needed at least 30 days ahead of time.
Final Results and Takeaways
Hindsight is always 20/20, but as we reflect on what we have done, we know that we should have allocated substantially more resources and time for preproduction. This is especially true when it comes to sketches, concept art and storyboards. If you don't have these types of materials handy – and finalized – there is a great deal of creative confusion that arises within your team. Unity and clarity of creative strategy is important.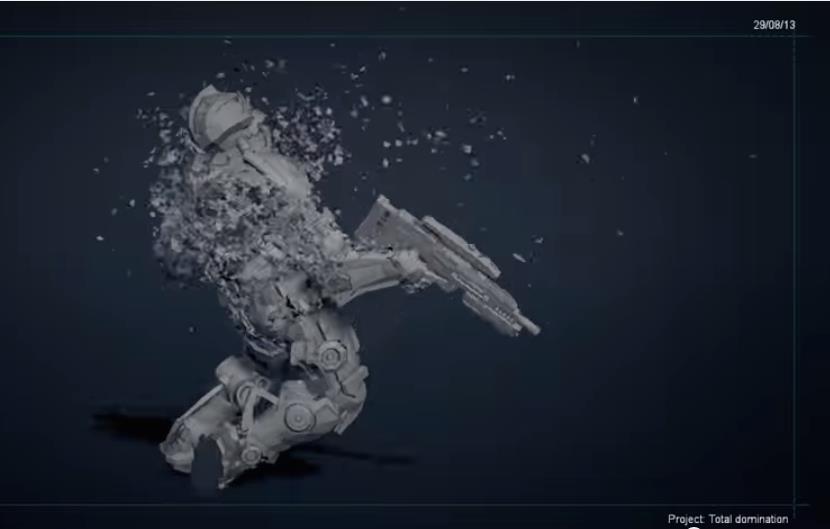 If we were tasked with creating a new cinematic, we would likely have chosen a unified color scheme. By doing this, we would have saved a tremendous amount of time, since it would have required significantly less modelling work for the final video. In our particular project, we made use of 4 color schemes, and it provided plenty of challenges for us. We have learned however that it is possible to create something equally as impressive, but significantly more manageable in our future projects.
Our learning curve extended well beyond color schemes to sound effects, sound design and scoring. Recall that we only began work on the sound – and the music – at the conclusion of our project. We waited almost until the very end. The result of this was that our project completion date was pushed back further and we ended up losing lots of time with our SFX and music.
In the music and sound department, we worked with phenomenal talents including the renowned Jesper Kyd. We owe special thanks to Andrew at Wabi Sabi Studios as he created precisely what we are looking for in the SFX arena. Suffice it to say, we could have saved a lot of time and hassle by having everyone on the same page from inception of the project.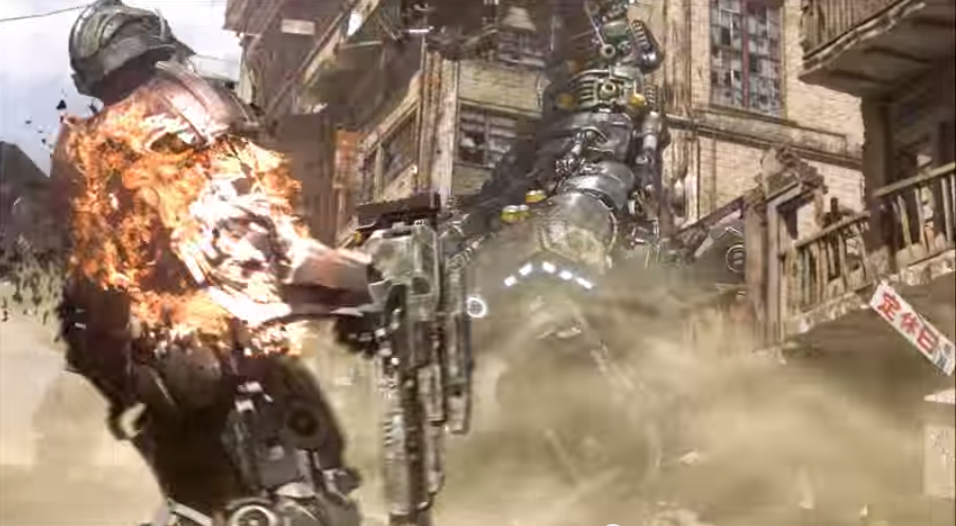 Viacheslav Lisovsky (rigging, direction, animation and lead at Plarium Games) had the following to say about the Game Trailer for Total Domination:
"Overall, we're quite happy with the end result of our work, but we're now starting to realize some of the mistakes we made in the process… Going forward, we can speed up the processes, by planning and organizing the pipeline in a far more effective way. That being said, the most important aspect of making a cinematic trailer is the experience that all the team members gained during the process…"
The one takeaway we can provide you with is the following: even if you do everything according to best practice methodology, eventualities will always arise that will test your problem-solving abilities to the max. That's why it's important to always think out of the box!
Vyacheslav (Slava) Lisovsky is the lead on the Plarium Cinematics Team. He graduated from Kharkiv National University in the Ukraine with a degree in radio-electronics. He has been employed with Plarium from 2012 to the present day.
Raid: Shadow Legends
Collect 400+ Champions & Fight For Glory