Online-Gaming-Trends ab 2017

Die Videospielindustrie wird jedes Jahr größer. Im letzten Jahr, 2016, machte die Industrie Umsätze in Höhe von 91 Milliarden US-Dollar. Die Prognosen für dieses Jahr sind sogar noch optimistischer - 108,9 Milliarden US-Dollar Umsatz. Wahnsinn...
Woher kommt dieser extreme Umsatzanstieg? Die Antwort ist einfach: Mobilspiele.
Die heißesten Gamingtrends 2017
Der derzeit größte Umsatzanteil der Spielindustrie wird von Mobilspielen eingefahren. Ende 2017 wird erwartet, dass sie 46 Milliarden US-Dollar einbringen, was 42 % des Weltmarktes für Spielprodukte entspricht. Nur zum Vergleich: 31 % entfallen auf Konsolenspiele und nur 27 % auf PC-Spiele.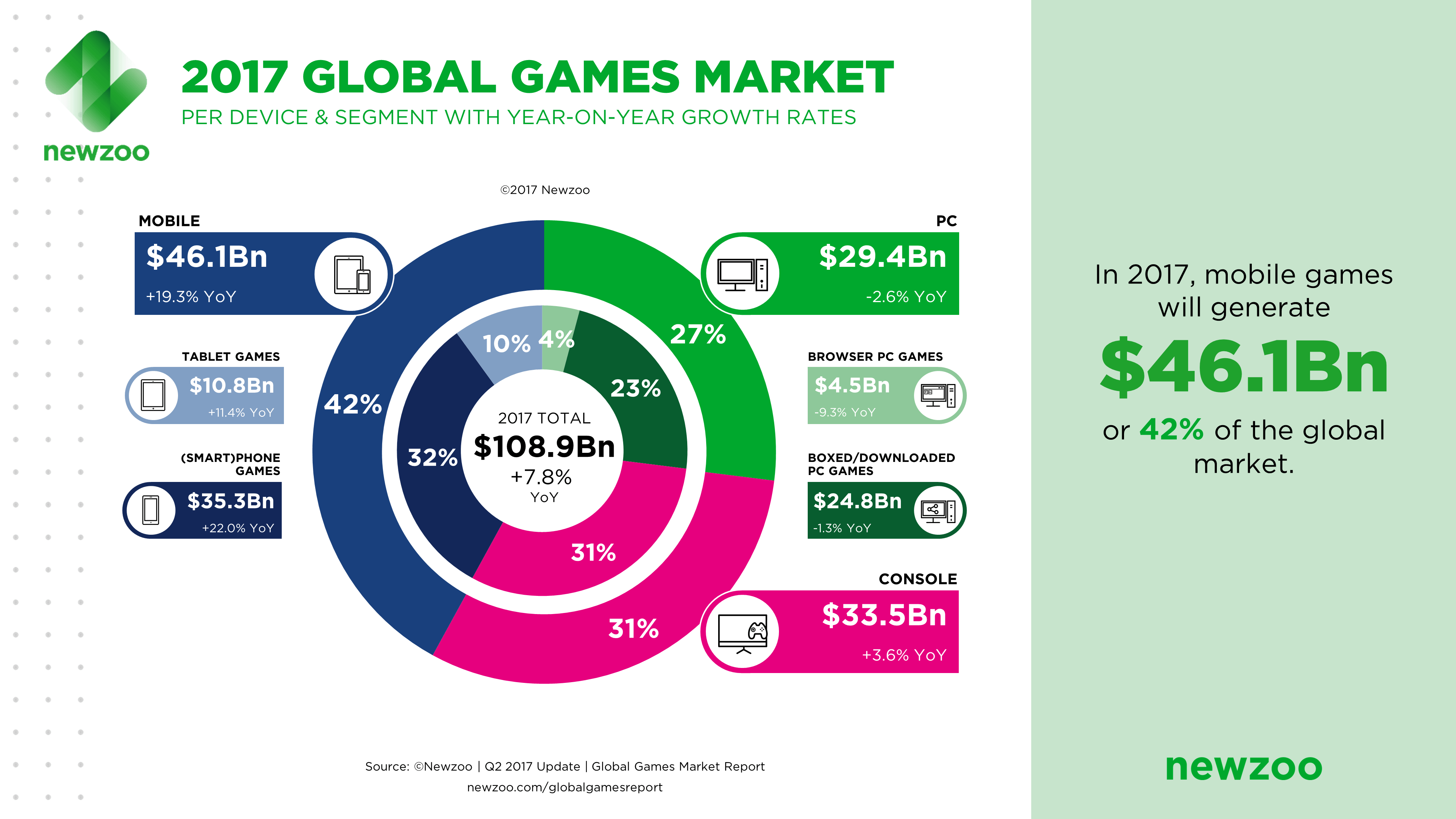 Doch Mobilspiele sind nicht der einzige aufsteigende Trend der Industrie. Virtuelle Realität ist eine weitere vielversprechende Umsatzquelle und Analytiker erwarten von 2016 nach 2017 ein Wachstum von 104 %. Tatsächlich wird erwartet, dass der jährliche Gesamtumsatz für VR bis zum Jahr 2020 28 Milliarden US-Dollar erreichen soll - das ist sechs Mal soviel, wie in diesem Jahr erwartet wird. Davon werden zwar nur 4,5 Milliarden auf VR-Spiele entfallen, doch es ist immer noch 20 Mal mehr, als was Spieler bis Ende 2016 ausgaben.
VR erfreut sich wachsender Beliebtheit, aber wir glauben, dass es das auch Mobilspielen zu verdanken hat. Mobilspiele und Smartphones werden mit jeder neuen Generation leistungsstärker. Sie unterstützen bereits VR- und AR-Games und je besser ihre technische Leistung wird, desto mehr bezahlbare, unterhaltsame und einzigartige Erfahrungen können wir erwarten. Es ist wesentlich einfacher und bequemer, sein Handy mit einem VR-Headset zu nutzen, als die teureren PC- und Konsolenvarianten. Es ist günstiger, man braucht keine nervigen Kabel und jeder, der ein Smartphone hat, kann es nutzen.
Ich will damit nicht sagen, dass VR nur Mobilgeräten vorbehalten ist, aber ich glaube, dass es seine zunehmende Beliebtheit eher dem Aufkommen vom Mobilspielen als Hardcore-Spielern zu verdanken hat, die eine teure PSVR oder HTC Vive kaufen.
Was den Beitrag der "Hardcore"-Gamer zum wachsenden Erfolg der Videospiele angeht, gibt es zwei Segmente, die es sich anzuschauen lohnt: eSports und Online Gaming.
eSports ist einer der am schnellsten wachsenden Märkte für Spiele, direkt nach VR. Zwischen 2016 und 2017 stieg der Umsatz von eSports um 26 %. Natürlich sind die Zahlen noch immer relativ niedrig, mit 892 Millionen im Jahr 2016 und geschätzten 1,1 Milliarden 2017. Beeindruckend ist jedoch die Reichweite von eSports. Von wettbewerbsintensiven Konsolenspielen über Sammelkartenspiele bis zu gratis spielbaren MMOs versucht fast jedes Videospiel-Genre, die eSport-Szene zu erobern - mit unterschiedlichen Erfolgen.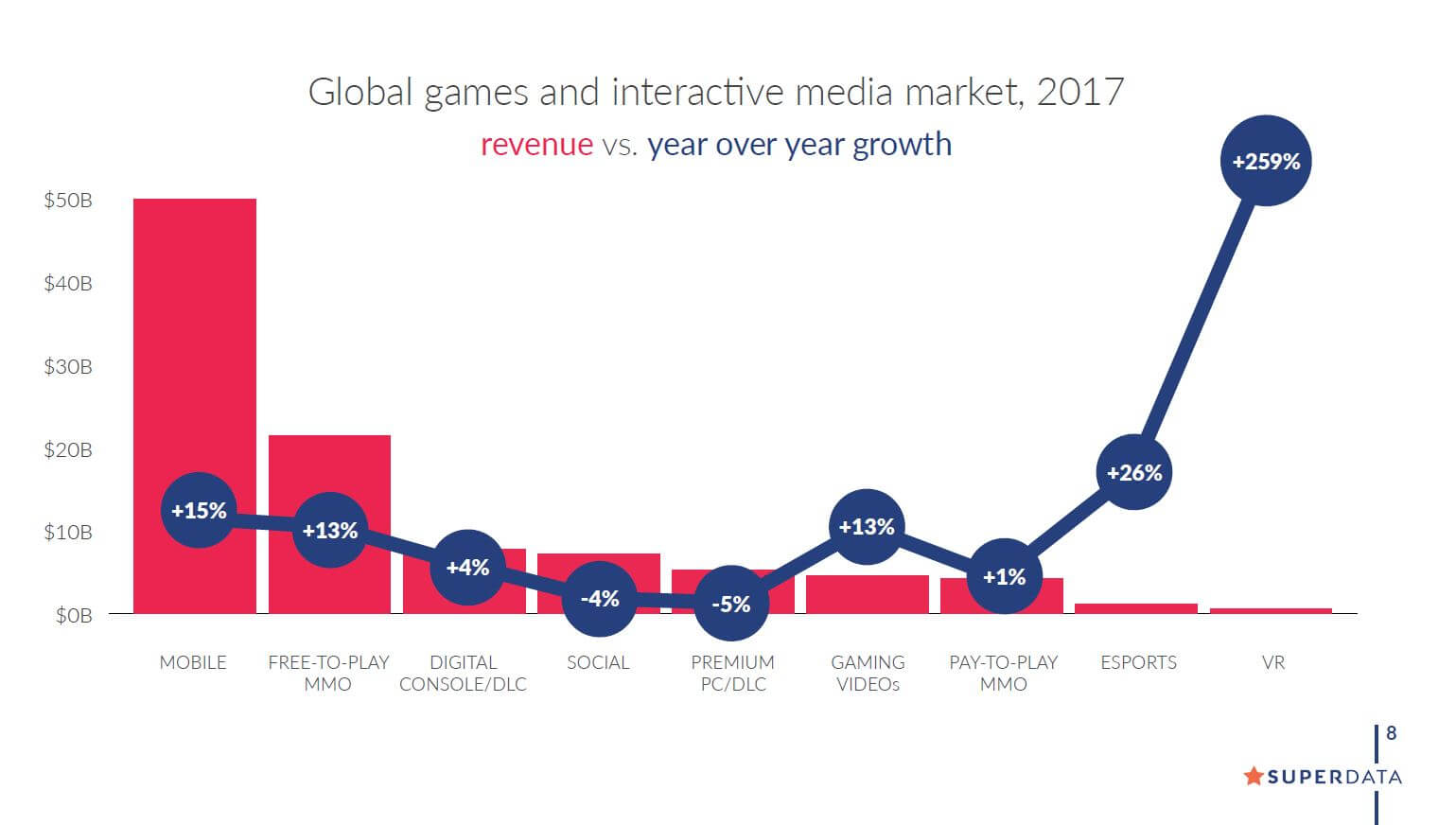 Derzeit sind VR und eSports die heißesten Trends. Doch das Rückgrat der Industrie sind und bleiben die Spiele. Daher werde ich mich hier auf die Spiele selbst konzentrieren. Genauer gesagt auf Online-Games.
Die beliebtesten Online-Spiele 2017
Online-Spiele waren noch nie so beliebt. 2017 gibt es 575 Millionen Leute, die Online-Spiele spielen weltweit, und diese Zahl rechnet nicht die kostenlos spielbaren Browsergames ein. Das ist ein Anstieg von 3 % gegenüber 2016 und bis 2021 wird ein stetiger Anstieg auf 645 Millionen Spieler erwartet. Außerdem zeigt ein kurzer Blick auf die offizielle Steam-Statistik-Seite, dass die Top 5 Spiele auf dieser Plattform allesamt Online-Spiele sind. Ganz zu schweigen von Spielen, die nicht auf Steam vertreten sind, wie z. B. Overwatch und Hearthstone, die jeweils etwa 100 Millionen Spieler über alle Plattformen verstreut haben.
Leute spielen also eine Menge Online-Spiele, doch die interessantere Frage ist: "Was genau spielen sie?" Die Genres und Untergenres sind endlos, also sehen wir uns mal an, welche Arten von Spielen online und offline gespielt werden.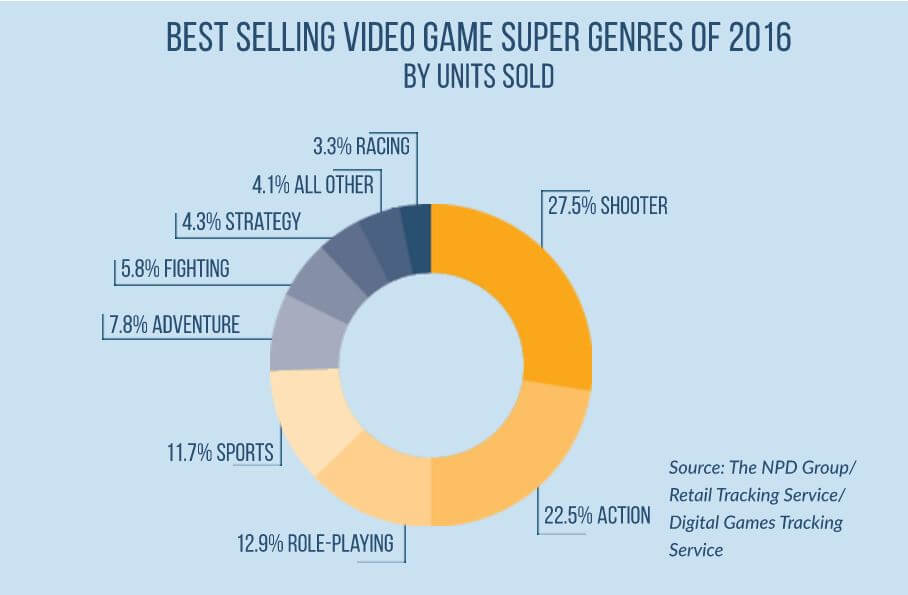 Es sieht aus, als ob Action, Shooter- und Rollenspiele die PC- und Konsolenmärkte im Griff haben. Wenn wir uns jedoch die beliebten Mobilspielgenres ansehen, sieht die Aufteilung ganz anders aus: Rätsel, Strategie und Glücksspiele befinden sich weit oben.
Nachdem wir dies wissen, konzentrieren wir uns auf die 5 beliebtesten Genres für Online-Spiele:
MOBA
Rollenspiele oder MMORPGs
Shooter
Strategie
Glücksspiele
MOBA
MOBA steht für Multiplayer Online Battle Arena und ist ein ziemlich neues Spielgenre. Es eroberte die Spielewelt mit riesigen Titel wie League of Legends, Dota 2 und Heroes of the Storm. Manche behaupten sogar, dass dieses Genre verantwortlich für das Aufkommen der heutigen eSports ist.
Es lässt sich nur schwer sagen, welches MOBA insgesamt am erfolgreichsten ist, aber wir können leicht erkennen, welches das Beliebteste im Jahr 2017 ist. Laut den Online-Zuschauerzahlen und der Anzahl der aktiven Spieler ist LoL bei weiterem der Sieger, sogar 8 Jahre nach seiner Veröffentlichung. Um dieses Zeit im letzten Jahr behauptete Riot Games, dass LoL 100 Millionen aktive Spieler pro Monat hat. Im Vergleich: Dota 2, der größte Konkurrent dieses Spiels, meldet 13 Millionen individueller Spieler pro Monat. LoL ist also bisher das am häufigsten gespielte PC-Spiel des Jahres, und auch das am meisten angesehene Spiel auf Twitch.
Der größte Beweis, dass das MOBA-Genre noch immer der unangefochtene Champion des Online-Gamings ist, ist natürlich das Geld. LoL bringt dieses Jahr nicht nur mehr Umsatz ein als jedes andere MOBA-Spiel, es ist auch das PC-Spiel, das 2017 die höchsten Netto-Erträge einfuhr. Das ist ziemlich beeindruckend.
Für Mobilspiele ist die Situation beinahe identisch. Honor of Kings, im Westen auch als Arena of Valor bekannt, ist das größte Mobilspiel 2017. Es handelt sich dabei um eine 5v5 Battle Arena. Das Spiel konnte seit seiner Erstveröffentlichung 2015 55 Millionen aktive Spieler überzeugen und bringt einen monatlichen Umsatz von 435 Millionen US-Dollar ein. In China ist es so beliebt, dass die größte Zeitung des Landes es als "Gift" und "Droge" bezeichnet. Leute scheinen also echt darauf zu stehen.
Doch es gibt einen weiteren Spieletyp, der den Erfolg von MOBAs über die Onlinegaming-Szene bedrohen zu scheint, nämlich Shooter-Spiele.
Shooter
MOBAs gelten noch immer als das beliebteste Genre für Online-Games, doch die Shooter holen auf. Und zwar schnell.
Beliebte Spiele wie Overwatch, Counter-Strike: Global Offensive und GTA Online drohen, die Top-MOBAs in den Schatten zu stellen. Tatsächlich ist CS:GO nun das beliebtestes eSport-Game auf Twitch und League of Legends ist nicht länger der unangefochtene Sieger. Seit der kürzlichen Veröffentlichung von Destiny 2 sind Shooter beliebter denn je - sie könnten schon bald MOBA als das beliebteste Genre für Online-Games überholen.
Kein anderes Spiel ist ein besseres Beispiel für den bevorstehenden Wandel als PlayerUnknown's Battlegrounds, ein reines Multiplayer-Spiel des Studios Bluehole. Aktuell ist PUBG das am meisten gespielte Spiel auf Steam. Etwa 1 Million Menschen spielen es jeden Tag - witzigerweise, denn eigentlich wurde das Spiel noch gar nicht veröffentlicht. Jedenfalls nicht offiziell.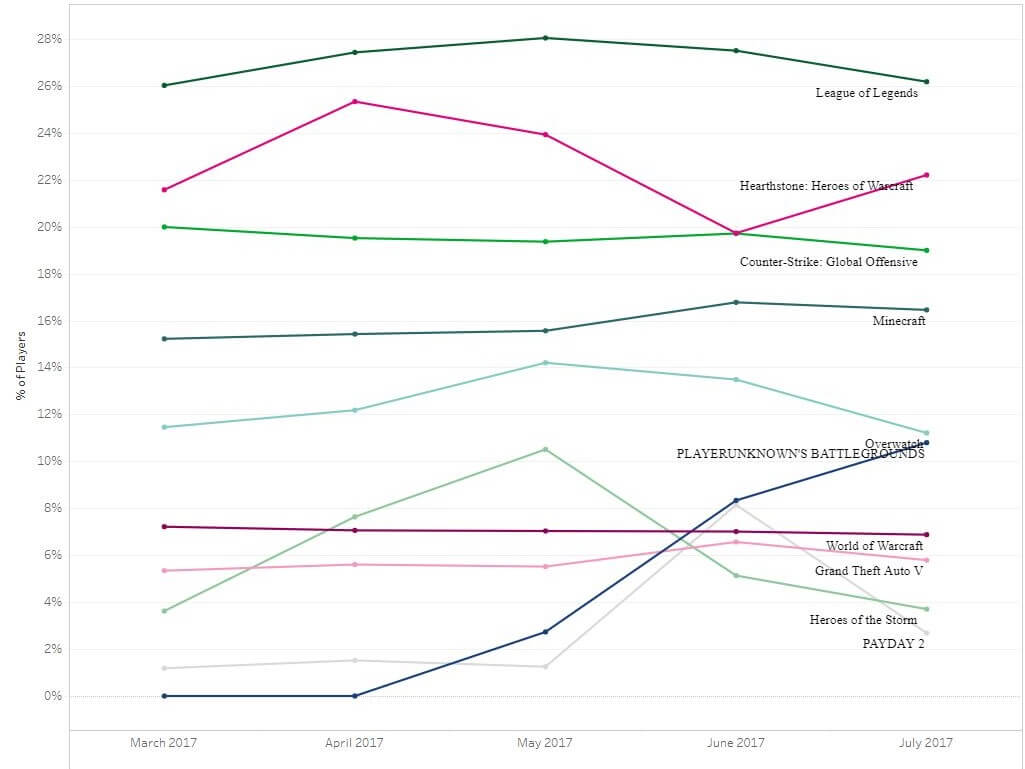 Laut einer Studie von Newzoo ist PlayerUnknown's Battlegrounds derzeit das sechst-beliebteste Spiel für den PC. Im Mai 2017 spielten nur 2,73 % aller PC-Gamer dieses Spiel. Im Juli waren es bereits 10,81 %. Auf dem japanischen Markt ist es auf Platz 1, in China auf Platz 3 und in den USA auf Platz 4. Mit Zahlen wie diesen ist es auf dem besten Weg, die Top-Plätze weltweit zu erreichen.
MMO und MMORPG
Massive Multiplayer Online Games, insbesondere Massive Multiplayer Online Rollenspiele, sind noch immer die Grundlage des Online-Gamings.
Wie das obige Diagramm zeigt, bringen gratis spielbare MMO-Games in diesem Jahr schätzungsweise 20 Milliarden US-Dollar Umsatz ein, das sind 13 % mehr als im Jahr 2016. Kostenpflichtige MMOs schlagen sich noch immer gut, mit einem Umsatz von etwa 5 Milliarden - einer Steigerung von 1 % gegenüber dem Vorjahr.
Die beliebtesten MMORPGs 2017 überraschen sicher niemanden, der diese Art von Spielen seit einigen Jahren spielt. World of Warcraft steht noch immer an erster Stelle, dahinter befinden sich Guild Wars 2, The Elder Scrolls Online und Final Fantasy XIV.
Man kann jedoch nur schwer sagen, ob es dem Genre gut geht oder nicht. Die meisten MMORPGs weigern sich, ihre aktiven Spielerzahlen zu veröffentlichen und geben stattdessen nur die Anzahl der registrierten Abonnenten oder User preis (die in F2P-Spielen meist nicht sinken). Wenn man sich die Zahlen genau ansieht, kann man eine stetige Beliebtheitssenkung der führenden Spiele erkennen, doch die Zahlen steigen immer dann an, wenn es große neue Aktualisierungen gibt. Wir können mit Sicherheit behaupten, dass MMORPGs noch lange nicht auf dem absteigenden Ast sind, auch wenn sie nicht so beliebt scheinen wie in der Vergangenheit.
Das größte Hindernis des Genres, wieder an Mainstream-Beliebtheit zu gewinnen, sind definitiv eSports. Viele glauben, dass MMOs einfach nicht für eSports gemacht sind, obwohl das nicht wirklich der Fall ist.
Online-Strategiespiele
Strategiespiele waren schon immer eine Art Marktnische, die sich seit Mitte der 90er jedoch dauerhaft gut geschlagen hat. In den letzten Jahren stieg die Beliebtheit dieses Genres dank der Rückkehr der Klassiker StarCraft und XCOM und einer Reihe neuer Stadtbau- und Weltall-Simulationen.
Doch dieses neue "goldene Zeitalter" der Strategiespiele ist in erster Linie auf dem Mobilspielmarkt zu erkennen. Mainstream-Publikum, das auf PC und Konsole spielt, ignoriert Strategiespiele häufig. Nur 4,3 % der am besten verkauften Spiele 2016 waren Strategiespiele. Für Mobilgeräte gibt es jedoch einen regelrechten Boom für Online-Strategie. Diese Titel nehmen dauerhaft die Top-Plätze für die beliebtesten und am meisten Umsatz erzielenden Mobilspiele ein.
Spiele wie Clash of Clans, Game of War and Vikings: War of Clans erfreuen sich unglaublicher Beliebtheit, sogar stärker als viele der großen Casual- und Rätsel-Spiele für diese Plattform. Ein Grund dafür könnte der Anstieg der gratis spielbaren oder "Freemium"-Geschäftsmodelle sein, die bei ressourcen- und zeitbasierten Spielen ausgezeichnet funktionieren.
Egal, was der Fall ist, es scheint, dass das Echtzeit-Strategie-Genre sich langsam in den mobilen Bereich verlagert, während Genres wie MOBA sich auf PC und Konsole ausweiten.
Online-Glücksspiel
Der Online-Glücksspielmarkt gehört genau genommen nicht zur Videospiel-Industrie, aber er ist definitiv ein Teil des Online-Spielemarktes. Und zwar ein ziemlich großer, insbesondere für Mobilgeräte. Wenn man sich die Zahlen ansieht, ist leicht zu verstehen, warum das so ist.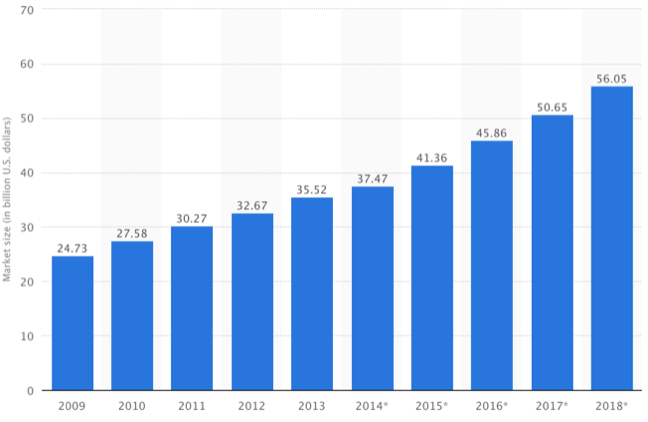 Der Umsatz des Online-Glücksspielmarktes 2016 betrug 45,86 Milliarden, und im Jahr 2017 werden 50,68 Milliarden US-Dollar erwartet. Wenn wir weiter in die Zukunft schauen, werden 2020 etwa 66,59 Milliarden und bis Ende 2024 96,89 Milliarden erwartet. Diese Zahlen sind verblüffend. Eine kleine Erinnerung: Mobilspiele sollen bis Ende dieses Jahres etwa 46 Milliarden US-Dollar einbringen, und sind der lukrativste Sektor der Videospiel-Industrie.
Auch wenn Spiel-Puritaner dieses Genre lieber ignorieren, haben Pioniere in diesem Feld bereits bewiesen, dass Online-Glücksspiel genauso beliebt, und manchmal sogar beliebter sein kann als die meisten anderen Spielgenres.
Die Zukunft des Online-Gamings
Was hält die Zukunft also für Online-Spiele bereit?
Werden Mobilgeräte, je leistungsstärker sie werden, PC und Spielkonsolen vollständig ersetzen? Das zweifle ich an, obwohl der Erfolg des Nintendo Switch, einer Mischung aus Heimkonsole und tragbarem Spielgerät, ein erster Vorgeschmack dafür sein könnte, was uns erwartet. Aber sehen wir uns an, was wir etwas sicherer vorhersagen können.
Virtuelle und Augmented Realität befindet sich auf dem aufstrebenden Ast, und sobald Headsets günstiger und bequemer werden, werden wir neue Angebote sehen, die ein breiteres Publikum ansprechen. Eine dieser Zielgruppen könnte der gelegentliche Online-Glücksspieler sein. Statt nach Las Vegas zu fliegen könnten Spieler ein VR-Headset aufziehen und ein virtuelles Casino besuchen.
Schlussendlich wird sich Gaming auch vollends zu einem Zuschauersport entwickeln. Angesichts der jedes Jahr steigenden Anzahl von Leuten, die Spielturniere und Events online ansehen, wird die Lücke zwischen "echten" Sportarten und virtuellem Sport immer kleiner werden. Wir sind nicht weit von dem Tag entfernt, an dem die FIFA World Cups online statt auf dem Rasen stattfinden.
Das sind nur einige Möglichkeiten. Schließlich müssen wir abwarten, was Spieler sich wünschen und was sich Spielentwickler einfallen lassen.
Raid: Shadow Legends
Sammle über 400 Champions & kämpfe um Ruhm