Wie sich neue Smartphone-Technologie auf Mobile Gaming auswirken wird

Wenn du Mobilspiele spielst, fragst du dich sicher: Welche neuen Innovationen im Bereich der Handytechnologie werden die größten Auswirkungen aufs Mobile Gaming haben?
Mit cooler neuer Technologie wie virtuell erweiterter Realität, bahnbrechend schnellen und kleinen Prozessoren und sogar holografischen Displays erwarten uns fantastische Dinge.
Erinnerst du dich an Iron Man und seine holografischen Computerbildschirme? Wir kommen dieser Realität täglich einen Schritt näher. Das klingt ziemlich cool, oder?
Schauen wir uns an, wie neue Smartphonetechnologie sich aufs Mobile Gaming auswirken wird!
Erweiterte und virtuelle Realität im Mobile Gaming
Natürlich ist erweiterte und virtuelle Realität auf Smartphones nichts neues. Pokémon Go gibt es bereits seit über einem Jahr und VR und AR waren bereits davor einige Jahre im Gespräch.
Tatsächlich behauptetet Yohei Ishii, Geschäftsführer von Turbo Studios, dass "dies der Beginn einer massiven Veränderung in der Gamingwelt und besonders im Mobilbereich ist. Dies ist ein wahres Anzeichen dafür, dass die Mobilbranche sich emanzipiert."
Experten sagen voraus, dass die Mobile Gaming Industrie dieses Jahr mit einem Umsatz von 35 Milliarden Dollar abschließen wird, was einer Steigerung von 20 % gegenüber 2015 entspricht. Heute spielen mehr Menschen Spiele auf Mobilgeräten als auf PCs und Konsolen.
VR und Ar werden häufiger, da sich die Technologien weiter entwickeln. Wir haben bereits die Samsung Gear VR, das erstaunlich günstige Google Cardboard und das High-End Modell Oculus Rift, die allesamt mit unseren Handys kompatibel sind, so dass wir in eine virtuelle Welt abtauchen können.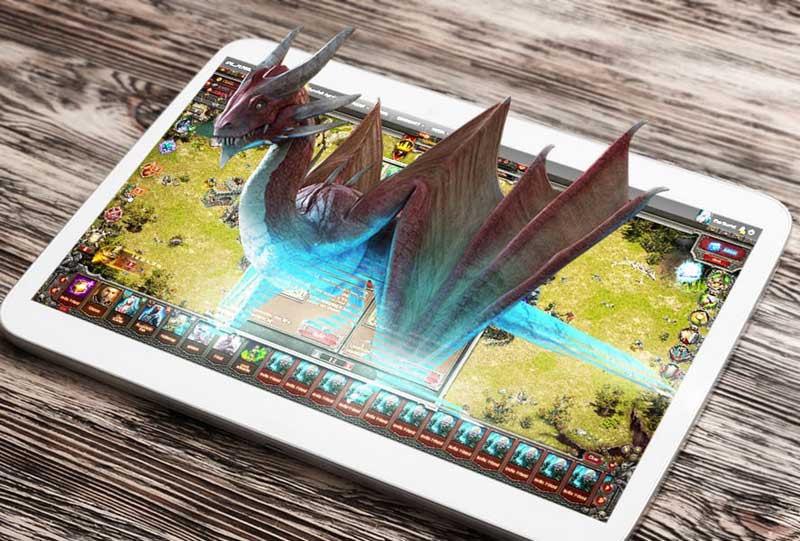 Die in den neusten Handys verwendeten Snapdragon 835 Prozessoren sind 35 % kleiner und verbrauchen 25 % weniger Energie als Vorgängermodelle. Wenn man dieses mit einem Gear VR Controller kombiniert, der es ermöglicht, Objekte zu werfen und mit der virtuellen Welt zu interagieren, wird die Sache wirklich cool.
Es gibt noch immer kleine Probleme, wie Verzögerungen der Bildrate und Glitches mit dem Controller, doch diese werden mit Sicherheit in naher Zukunft behoben, wenn VR mehr zum Mainstream wird.
Doch egal, wie gut VR wird, es gibt immer noch das Problem, dass man allein und ohne wirkliche menschliche Interaktion in seine eigene Welt abtaucht. Doch keine Sorge - es gibt auch schon Multiplayer VR Games.
Wenn du schon traditionelle VR cool findest, warte ab, woran Avegant gerade arbeitet...
Nämlich am Avegant Glyph, ein virtuelles Bilderlebis, bei dem das Video direkt auf deine Netzhaut gebeamt wird.
Du hast richtig gelesen - Avegants "patentierte Retina-Bildtechnologie imitiert unser natürliches Sehvermögen durch LED-Projektion auf Millionen mikroskopisch kleiner Spiegel." Näher kann man nicht daran kommen, etwas zu sehen, ohne dass es wirklich da ist.
Natürlich fragt man sich bei all diesen Technologien, ob sie unser Sehvermögen beeinträchtigen und wie sie sich auf soziale Interaktionen zwischen Menschen auswirken. Es heißt bereits, dass Smartphones unsere Aufmerksamkeitsspanne verringern und uns paradoxerweise weniger gesellig machen... aber das Thema gehört in einen anderen Artikel.
Doch virtuelle Realität ist nur eine von vielen Möglichkeiten. Die wahren Innovationen erwarten uns im Bereich der erweiterten Realität, die eine viel größere Auswirkung haben wird als Mobile Gaming. Als Pokémon Go veröffentlicht wurde, konzentrierten sich viele Bedenken und der allgemeine Fokus von virtuelle auf erweiterte Realität. Warum sollten wir uns schließlich in der virtuellen Welt einsperren, wenn wir die Realität zu einem Spielplatz machen können?
In AR Games reagiert man auf Ereignisse in der realen Welt um sich herum. Ich könnte mir ein Skyrim in der realen Welt vorstellen, in dem Menschen an Orte in der realen Welt reisen - wie Städte, Dschungel oder Höhlen - und dabei in einem MMORPG mit erweiterter Realität spielen.
Vielleicht ist das sehr weit hergeholt und wird nie geschehen - doch es gibt einige frühe Versuche in diese Richtung, wie Microsofts Fragments, ein Krimispiel, in dem man bei sich Zuhause Spuren sammeln muss.
Das ist alles echt spannend. Doch erweiterte, gemischte und virtuelle Realität sind nur eine potentielle Entwicklungsrichtung für Mobilspiele. Die aktuellsten Innovationen im Bereich Rechenleistung haben unendlich viele weitere Möglichkeiten für Smartphone-Gaming eröffnet.
Vom Handydisplay zum großen Bildschirm
Der größte praktische Sprung im Bereich Mobilspiele besteht darin, unser kleines Handy mit einem größeren Bildschirm zu koppeln.
Warum? Weil im Januar dieses Jahres 78 % aller Deutschen ein Smartphone besitzen. Es besitzen mehr Menschen ein Smartphone als einen schnellen Internetanschluss zuhause. In anderen Worten: Es gibt Hinweise darauf, dass das Smartphone in Zukunft unser einziger Computer sein wird.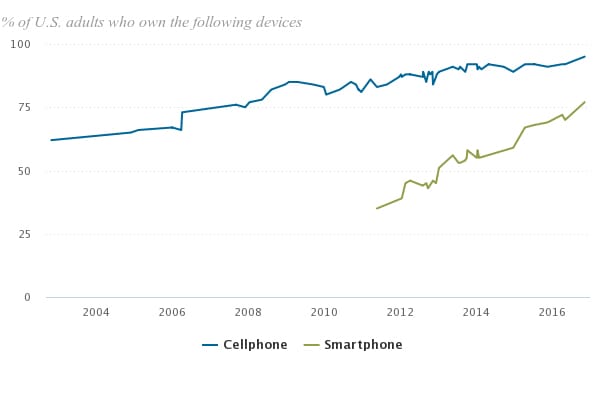 Das ergibt Sinn. Schließlich sehen wir in der Technologie einen Trend dazu, dass alles kleiner, schneller und effektiver wird. Sobald ein Punkt erreicht ist, an dem das Gros der durchschnittlichen Arbeits- und Spielaufgaben sich übers Handy abwickeln lässt, besteht das einzige fehlende Puzzlestück darin, unser Handy einfacher mit einem Fernseher oder Computerbildschirm zu verbinden.
Es ist bereits möglich, den Bildschirm unseres Handys auf den Computer zu übertragen. Mit dem Nintendo Switch haben wir bereits erlebt, wie eine Kombination aus Handy und Spielkonsole funktionieren könnte. Es könnte eine Konsole mit einem Lüfter geben, an die man das Handy anschließen kann, so dass es kühl bleibt, geladen wird und somit stundenlang einsatzbereit ist. Danach kann man es einstecken und die gleichen Spiele unterwegs spielen.
Gleichzeitig könnte diese Docking-Station fürs Gaming auch mit einer Bluetooth-Tastatur und Maus verbunden werden. Das wäre wie eine Mischung aus Handy, Konsole, PC und Fernseher. Klingt doch cool, oder?
Auch wenn mobile Hochleistungsgeräte noch eine Weile entfernt sind, ist der Snapdragon 835 Prozessor in Samsungs neusten Handys dennoch leistungsstark genug, um einen Computer mit Windows 10 anzutreiben. Beliebte Spiele, die weniger starke Leistung erfordern, wie zum Beispiel League of Legends, Call of Duty und sogar World of Warcraft, könnten bald für Handys verfügbar sein.
Nizar Romadan, Ecosystem Director von ARM (dem Unternehmen, das die Chips für die meisten Mobilgeräte entwickelt) behauptet sogar, dass "High-End Tablets und Smartphones grafisch mit den beliebten Spielekonsolen mithalten können werden."
Und dann wäre da noch die Handy-/Mobilkonsole PGS (Portable Gaming System), die seit kurzem vorbestellbar ist.
Es schaut jedoch so aus, als sei diese Gerätschaft nicht leistungsstark genug. Sie gibt uns jedoch einen guten Vorgeschmack darauf, wie die Zukunft der Mobilspiele aussehen könnte - integrierte Controller, duale Bildschirme und eine Menge Spaß.
Doch das mag noch lange nicht das Ende der Möglichkeiten für Smartphone-Spiele sein. Mit dem Gamevice kann man Controller an jedes beliebige Handy anschließen.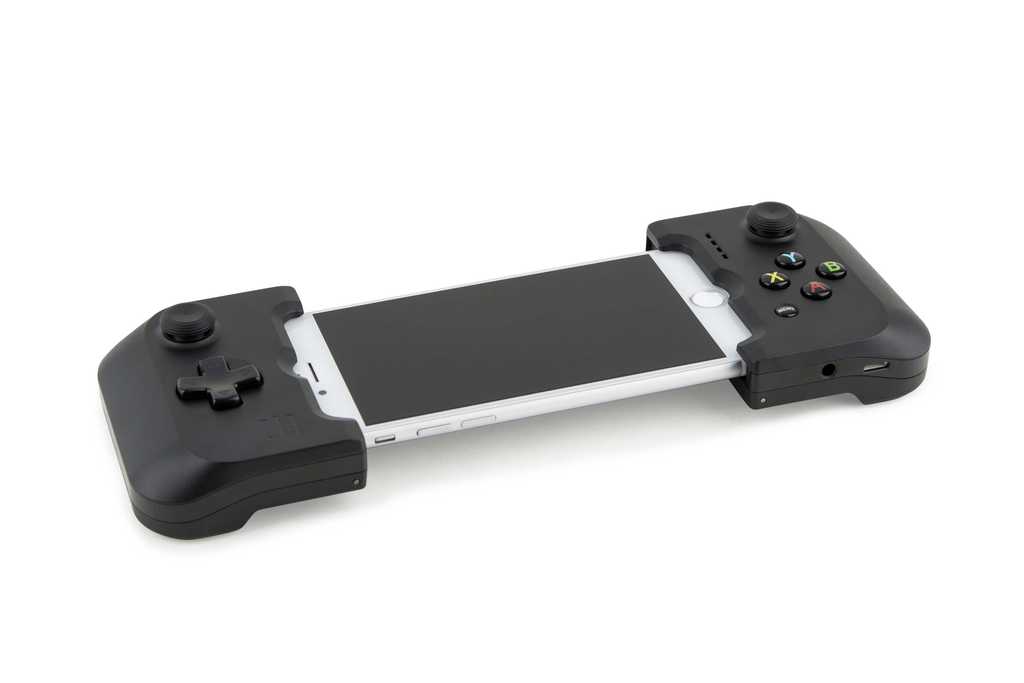 "Gamevice hat sich zur führenden Gamepad-Lösung entwickelt und arbeitet an aufregenden Kooperationen sowie einer erweiterten Produktreihe, die mit mehr als 1 Milliarde Geräten kompatibel sein wird", so das Unternehmen in einer Pressemitteilung.
Es ließ sich dafür von der Nintendo Switch inspirieren. "Die Switch konnte beweisen, dass Konsumenten sich eine Form wünschen, die mobil und tragbar ist", teilte Geschäftsführer Philip Hyung PocktGamer.biz mit. "Uns hilft, dass auch Nintendo daran arbeiten wird, bessere Inhalte für diese Art von Plattform anzubieten."
Doch genug Gerede von praktischen Fortschritten, sprechen wir über echte Sci-Fi Themen!
Die ersten holografischen Handys
Über VR und AR weißt du Bescheid. Und du hast auch davon gehört, dass man sein Handy als neue Konsole oder PC nutzen kann. Aber was ist mit dem wirklich coolen Zeug - das holografische Tony Stark Display, das ich zu Beginn dieses Artikels erwähnte.
Das erwartet uns definitiv. Ich weiß nicht wann oder wie, aber das wird es in der einen oder anderen Form garantiert geben. Woher ich das weiß?
Weil es holografische Handys bereits gibt. Und das schon seit über einem Jahr.
Ich weiß, was du denkst - das sieht nicht besonders beeindruckend aus, und damit hast du Recht. Die Auflösung dieses holografischen Handys hat nur mickrige 160x104 Pixel zu bieten, weit entfernt von den beeindruckenden 4K, die heute bereits möglich sind. Genau das verhindert, dass dieses Handy bereits für Verbraucher auf den Markt gebracht wurde.
Aber wir sollten auch nicht vergessen, dass die erste Konsole überhaupt, die Magnavox Odyssey, eine Auflösung von 160x200 Pixeln hatte. An der ersten Variante einer neuen Technologie hapert es immer, und wir können dieses Handy mit viel besseren Dingen vergleichen. Mit etwas Zeit wird sich die Pixelqualität steigern und diese Technologie allgegenwärtig werden. Und hey - immerhin kann man damit Angry Birds spielen. Das ist doch auch etwas, oder?
Doch die holografische Technik ist noch weit von richtigen Hologrammen entfernt. Wird der geheime Traum eines jeden Spielers bald Realität werden?
Was ihm derzeit am nächsten kommt ist die HYDROGEN ONE Media Machine, die bereits vorbestellt werden kann... und wie ein Witz scheint. Es gibt nur ein Bild und praktisch keinerlei Details. Leider denke ich, dass wird in nächster Zeit noch keine richtigen Hologramme in der Spielewelt erleben werden. Oder zumindest nicht ohne die Mixed Reality Brillen, die wir oben erwähnt haben.
Also zurück zur Realität - was hält Handys noch zurück, wenn sie doch so leistungsstark sind?
Aktuelle Hindernisse fürs Mobile Gaming
Mobile Gaming hat seit Pong fürs Handy eine erstaunliche Entwicklung durchgemacht. Doch es wird noch viel weiter gehen. Vor allem gibt es einige gigantische Hürden, die weitere Entwicklungen zurückhalten.
Eines dieser Hindernisse ist die Kühlung. Je leistungsstärker ein kleines Gerät ist, desto heißer wird es. In einem kleinen Handy ist einfach nicht genug Platz für ein effektives Gebläse. Um die Leistung weiter zu steigern, müssen wir zuerst andere Kühlmöglichkeiten erkunden.
Außerdem gibt es das Problem der Akkuleistung. Man kann ein anspruchsvolles Spiel zwar ein bis zwei Stunden lang spielen, aber wirklich "mobil" ist das nicht. Derzeit befindet sich jedoch eine der praktischeren Anwendungsmethoden der Nanotechnologie in Entwicklung - Blitzladen.
Das ist echt klasse, schau es dir selbst an:
(Smart Dot arbeitet an einer Verkaufsversion, die Ende 2017 auf den Markt kommen soll)
Zu Hindernissen hat Romdan von Casual Connect Europe folgendes zu sagen:
"Wir sehen die Sache so, dass VR ein Anwendungsfall ist, der das Potential von Mobilgeräten auch für Hardcoregamer interessant machen könnte. Mobilgeräte warten mit genauso viel Erfahrung auf wie PCs und Konsolen [was den Formfaktor von VR betrifft]."
"Doch wir haben nicht die gleiche Rechenleistung. Die Akkudauer ist ein Problem. Aber es handelt sich um das gleiche User-Erlebnis. Und genau das könnte alles für Mobile Gaming ändern."
Dies sind natürlich nur die größten Hindernisse. Wie Romadan sagt, ist auch Rechenleistung ein Problem - doch diese wird sich mit der Technologie automatisch verbessern. Kennst du noch das mooresche Gesetz? Es besagt, dass sich technologische Leistungen alle zwei Jahre verdoppeln. Intel besteht darauf, dass dies noch immer stimmt.
Die Zukunft des Mobile Gaming
Erweiterte und virtuelle Realität sind bereits hier. Sie werden täglich besser und praktischer. Ich vermute, dass sie bald in jedem Haus zu finden sind, genau wie Technologien wie Google Voice oder Amazon Echo und einer Art von KI fürs Zuhause.
Mit weiteren technologischen Entwicklungen werden wir erleben, dass Smartphones mit großen Bildschirmen verbunden werden können und sich zu Konsolen entwickeln, die den heutigen Laptops ähneln und mit den meisten beliebten Spielen, die eine geringere Rechenleistung erfordern, fertig werden können.
In der ferneren Zukunft (aber nicht unendlich fern) können wir Innovationen im Bereich Hologramme erwarten und unsere Iron Man Fantasien Realität werden lassen. Dann wird es beim Gaming wirklich interessant werden.
Ach ja, hast du davon gehört, dass Nintendo an einem Legend of Zelda Smartphone-Game arbeitet? Ich weiß - wir sind auch gespannt!
Raid: Shadow Legends
Sammle über 400 Champions & kämpfe um Ruhm