Wie man Magic Sign Art schafft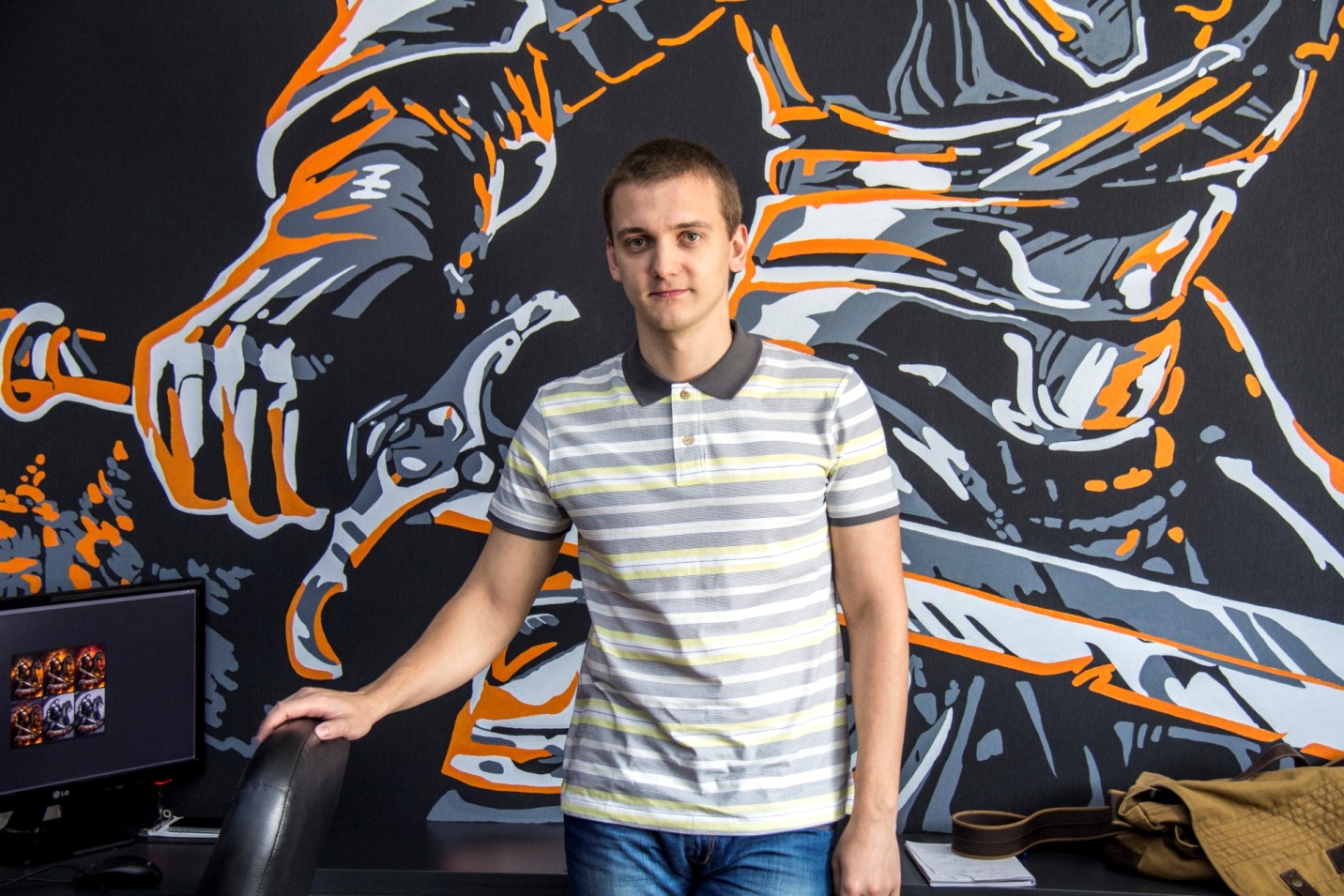 Seid gegrüßt! Mein Name ist Sergey Samarskiy und heute möchte ich euch erzählen, wie ich meinen "Magic Sign" Beitrag geschaffen habe. Macht es euch bequem – es wird unterhaltsam und informativ!
Das Konzept
Ich hatte kurz vor dem Mage Tower Wettbewerb R. Zelaznys The Chronicles of Amber gelesen. Diese Fantasy-Serie ist eine riesige Inspirationsquelle für mich, insbesondere der Merlin-Zyklus. Ich schuf daher in meinem Kopf das Bild eines Magiers mit einem Schild als Inspirationsquelle.
Die Arbeit beginnt…
Es ist ganz egal, ob es sich um ein privates oder berufliches Projekt handelt. In beiden Fällen muss man zuerst zuverlässige Referenzen und Beispiele sammeln. Ich persönlich arbeite gern rückwärts von meiner Vision bis zur Realität. Zu diesem Zeitpunkt befand ich mich in der Preproduction-Phase. Meine Aufgabe war einfach: So viel Artwork wie möglich aus dem Internet sammeln.
Eine große Inspiration für mich war dabei der berühmte Illustrator Michael Komarck. Besuche seine Webseite, um dir einen Eindruck zu verschaffen, wie inspirierend dieser Typ ist. Eine andere hochwertige Inspirationsquelle war das Fantasy-Kartenspiel Magic: The Gathering.
Diese Inspirationsquellen bewahrte ich ein einem separaten Ordner auf, um alle notwendigen Informationen aufzubewahren. Ich nutze Photoshop, um leicht auf die Bilder zugreifen zu können.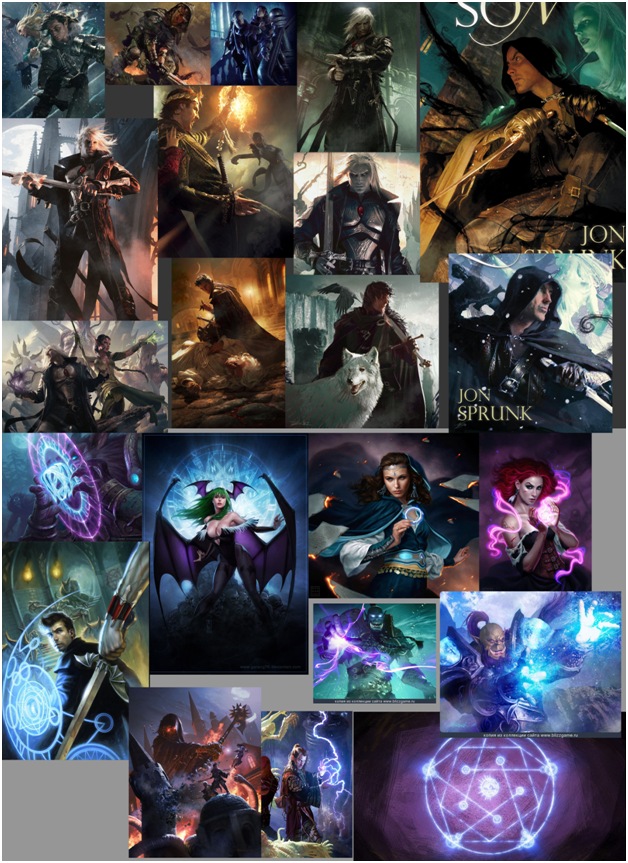 Diese Artwork-Sammlung ist eine tolle Inspirationsquelle für mich und bietet mir Ideen für meine neuen Projekte.
Erste Skizzen…
Nachdem ich das Artwork in Ordner sortiert hatte, bestand der nächste Schritt darin, Miniatur-Skizzen anzufertigen. Skizzen sind für mich eine tolle Methode, um ein allgemeines Charakterkonzept ohne zu viele Details zu entwickeln. Das ist zwar erst die Rohform, doch sie dient als Anhaltspunkt für meine kommenden Arbeitsschritte.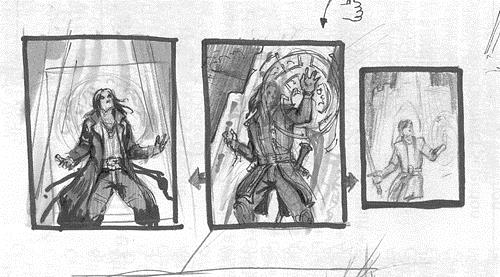 Wie du sehen kannst entwarf ich mehrere Miniaturen und entschied mich dann für die, die mir am besten gefiel. Das ist mein Anfangspunkt.
Foto-Auswahl …
Nachdem ich die Skizze hatte, musste ich als nächstes Inspirationen für die Waffen, Haltung, Kleidung und den Stil finden.
Für die Haltung habe ich das Internet gar nicht verwendet, sondern eines der vielen Bilder von mir selbst, die ich zu diesem Zweck gespeichert habe.
Ich mag realistische Kleidung ohne zu komplexe Details. Als Anhaltspunkte habe ich Bilder von den Kostümen aus dem Herrn der Ringe, verschiedene mittelalterliche Kleidungsdesigns und anderes Artwork verwendet.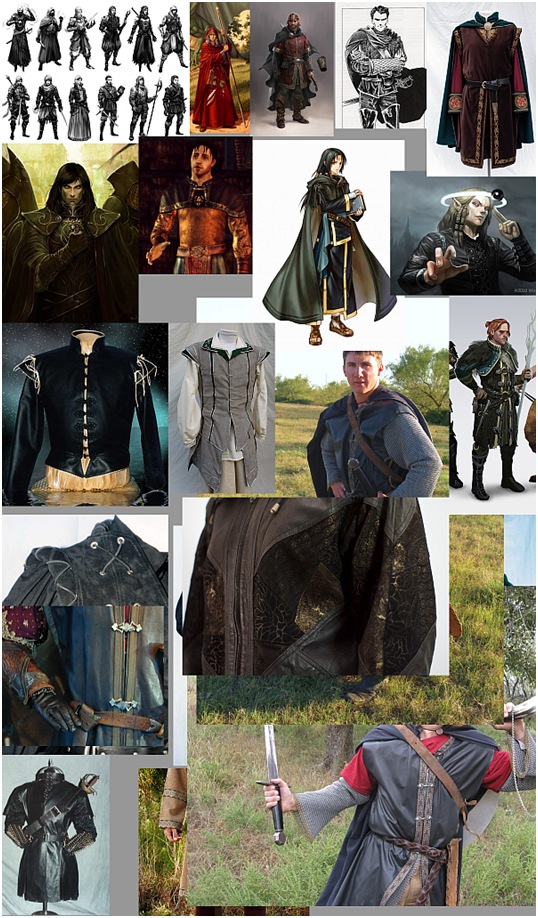 Die Zeichnung…
Nun, da ich all diese Informationen zur Hand hatte, konnte die echte Arbeit beginnen. Indem ich meine Haltung im Foto betrachtete erstellte ich eine grobe Skizze für das Bild.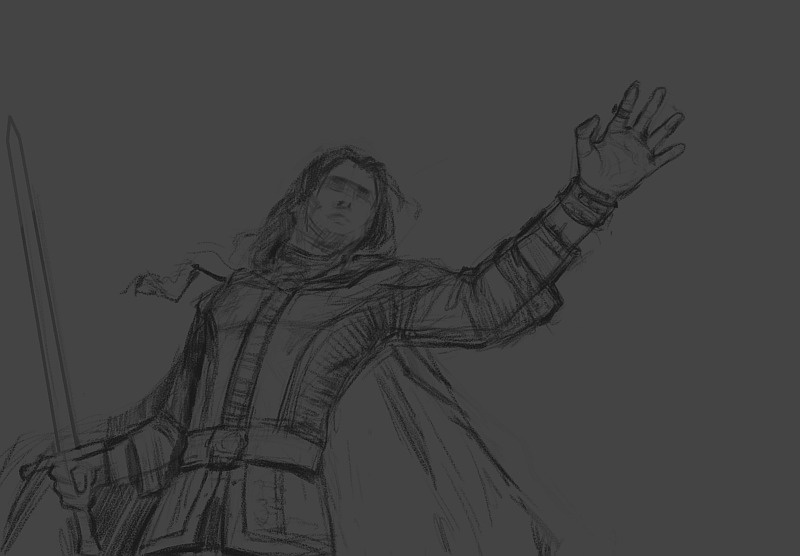 Danach fügte ich die Details für das Kostüm hinzu, alles in schwarz-weiß.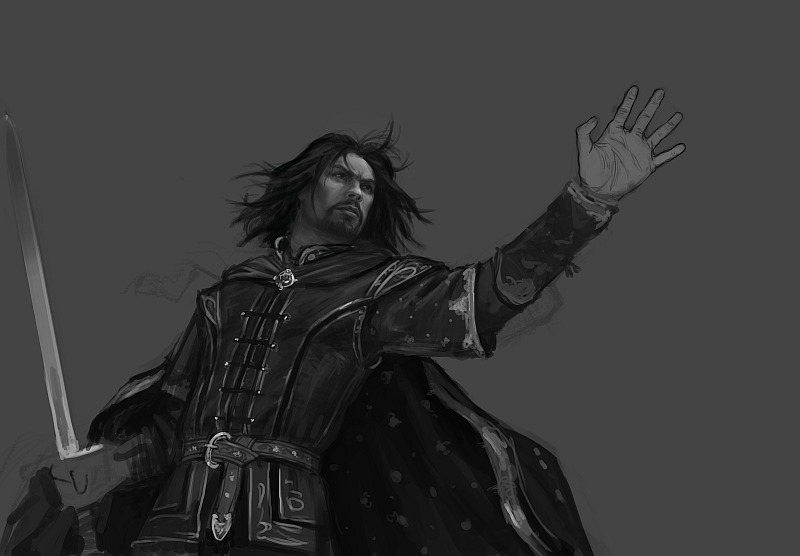 Der nächste Schritt war die Farbe. Am liebsten verwende ich dazu eine einfache Methode und verwende die Layer-Funktion in Overlay.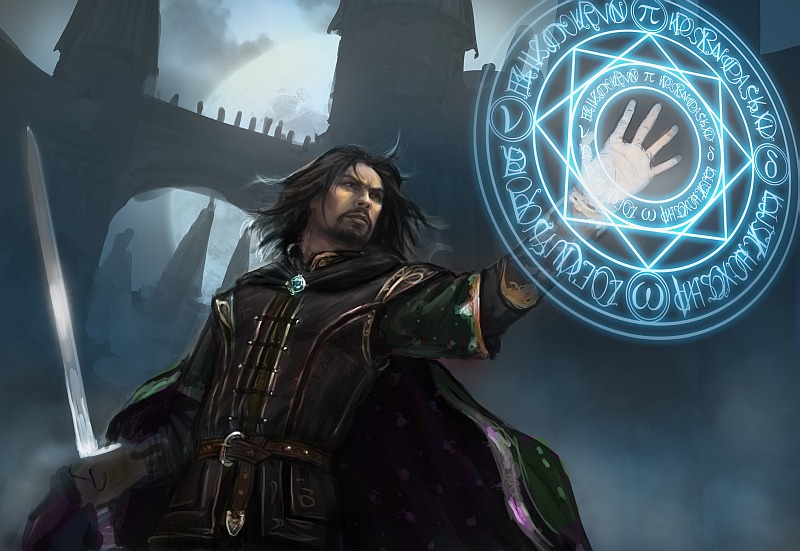 Nachdem die Farben stimmten, konnte ich die erforderlichen Korrekturen durchführen und die Details aufarbeiten.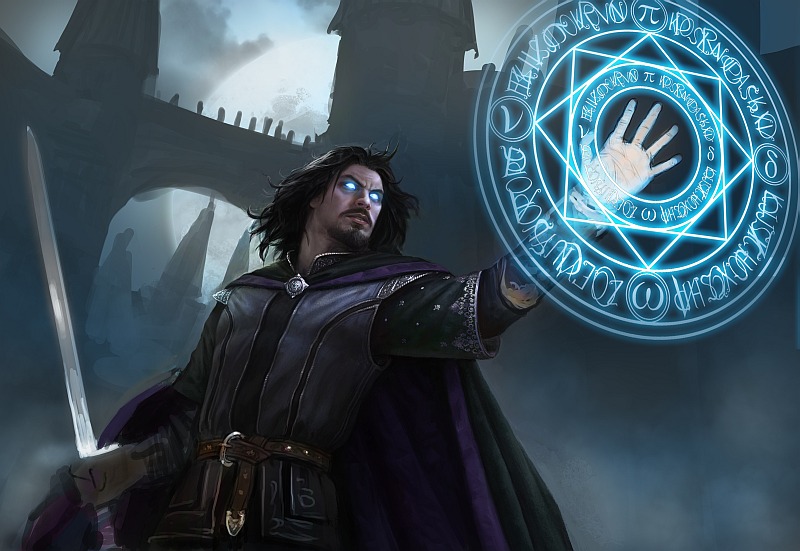 Dieses gesamte Verfahren dauert so lange an, bis ich zu 100 % mit dem Endergebnis zufrieden bin.
Der Turm
Nachdem der Magier fertig war, widmete ich den nächsten Schritt dem Turm. Ähnlich wie oben ist es wichtig, so viele nützliche Beispiele wie möglich zu sammeln, um sich einen Eindruck vom Endergebnis zu verschaffen. Da mein Bild realistisch sein sollte, habe ich mich an real existierenden Gebäuden orientiert.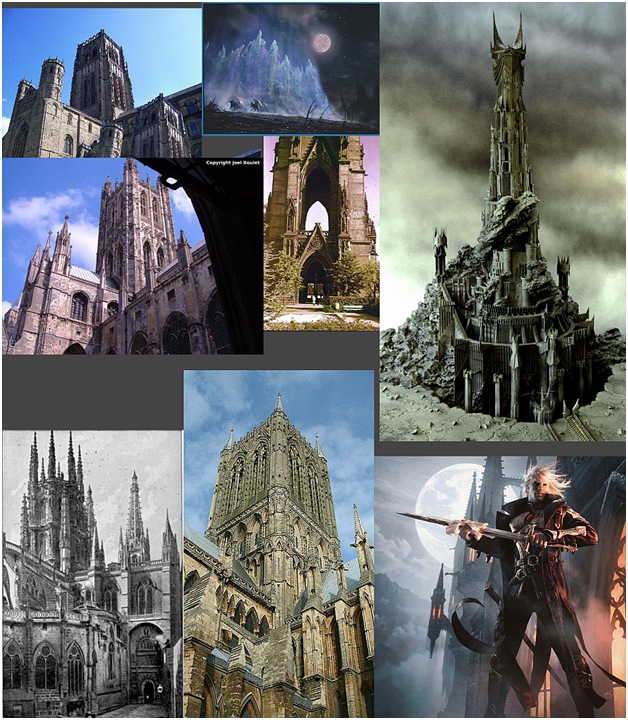 Hier wird's interessant: Ich habe die Kathedrale von Durham verändert und ihr einen Hauch von Fantasy verliehen. Es ist wichtig, die Form, Struktur und den Stil des Turms so anzupassen, dass er zum Artwork passt.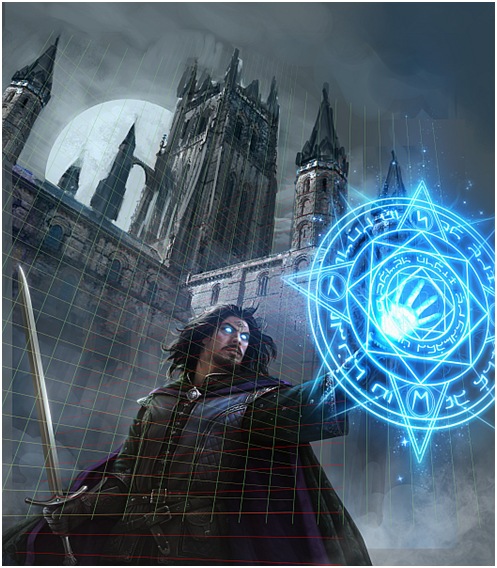 Ich forderte mich selbst heraus, den Turm an einem Abend fertig zu bekommen. Nach vier langen Stunden Arbeit ohne Pause hatte ich es fast geschafft.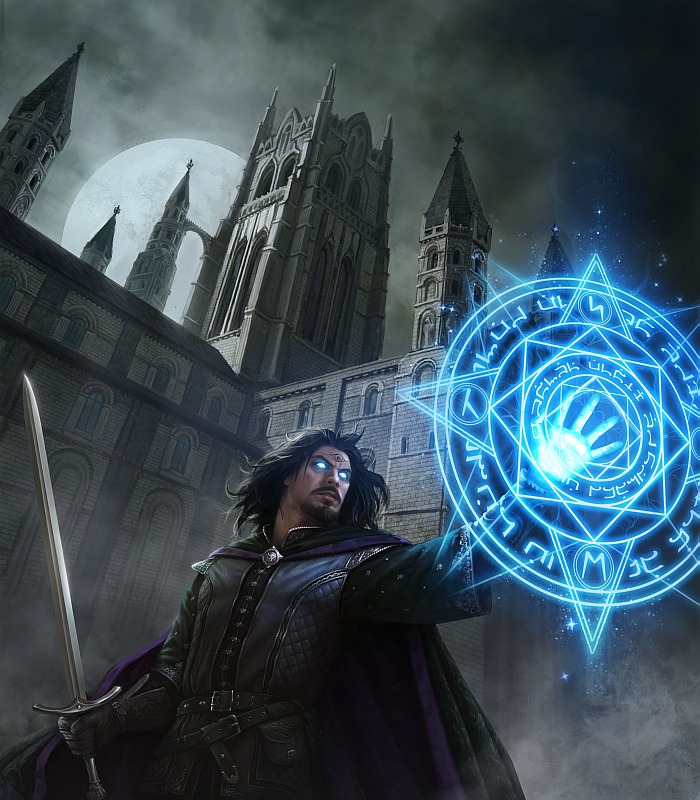 Analyse
Nach etwas wohlverdientem Schlaf begann ich, das Bild genau zu analysieren. Bestimmte Aspekte fehlten noch, und ich wollte das Bild mit zusätzlichen Farben und Spezialeffekten interessanter gestalten. Dazu holte ich den Rat eines Freundes ein, der vorschlug, dass Feuerbälle in den Turm prallen sollten – und genau diese Idee setzte ich um!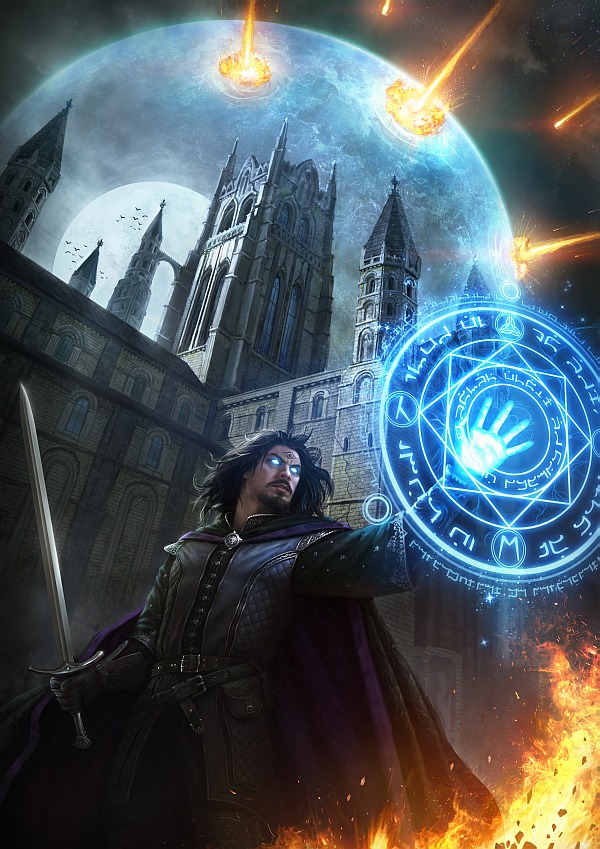 Der letzte Feinschliff
Es erfordert eine Menge zusätzliche Arbeit, das Bild zum Leben zu erwecken. Ich führte eine Reihe allgemeiner Korrekturen durch, fügte komplexe Details hinzu und schuf schließlich ein hochauflösendes Bild mit den Maßen 7069x9998. Nach mehreren Abenden harter Arbeit war ich mit dem Endergebnis zufrieden!
Ein Wort zum Abschluss
Jeder Schritt in der Schöpfung dieses fantastischen Magic Sign Artworks hat Spaß gemacht. Ich möchte mich bei den Veranstaltern des Wettbewerbs und allen Teilnehmern bedanken. Das Artwork war wirklich ausgezeichnet! Ich möchte mich zudem besonders bei Georgiy "Gigem" Ibrailov und Mariya "Ketka" Trepalina für die Zeit bedanken, die sie geopfert haben, um mir zu helfen.
Raid: Shadow Legends
Sammle über 400 Champions & kämpfe um Ruhm