20 Epische Geek-Conventions, die du wenigstens einmal im Leben besuchen solltest

Für Geeks, Gamer und selbsternannte Nerds geht einfach nichts über eine ordentliche Convention.
Conventions ermöglichen uns, uns mit gleichgesinnten Fans zu treffen, die unsere Interessen teilen und mit denen wir unsere wilden Fan-Theorien, Hoffnungen und Träume für unsere Lieblingsserien austauschen können. Dabei kann man sogar die großen Namen und Schaffer aus den besten geeky Medien kennenlernen.
Es gibt weltweit Dutzende von Conventions für verschiedene Fangruppen: Anime-Fans, Gamer und Comic-Geeks. Nachfolgend haben wir die 20 besten Conventions aufgeführt, die einen Besuch wert sind, sowie alle wichtigen Informationen, um deine nächste Reise zu planen.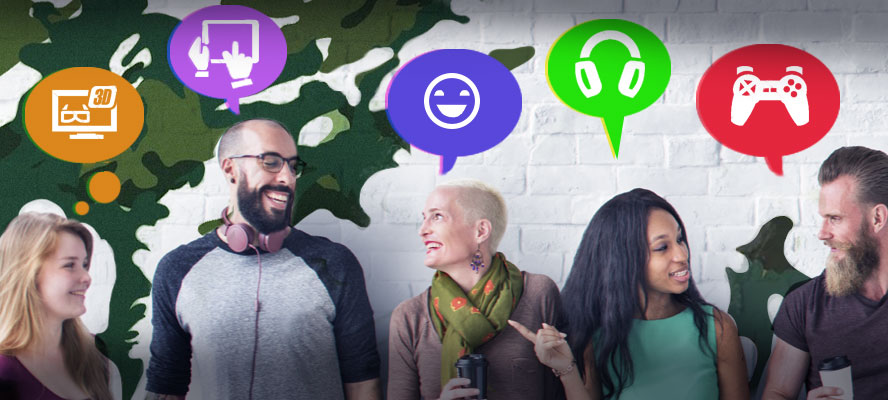 Die acht besten Gaming Conventions
E3
Die Electronic Entertainment Expo, auch bekannt als E3, ist wahrscheinlich das bekannteste Gaming Event der Welt. Die drei großen Gaming-Firmen Sony, Microsoft und Nintendo nutzen diese Convention, um exklusive neue Spiele und
Konsolen vorzustellen und auch bekannte Entwickler wie EA und Ubisoft veranstalten eigenen Events auf der E3.
Die Messe war ursprünglich dafür da, der Presse neue Games vorzustellen, doch seit der E3 2017 sind auch Verbraucher als Besucher zugelassen.
Offizielle Seite: https://www.e3expo.com/
Ort: Los Angeles, Kalifornien (USA)
Zeitpunkt: Jährlich im Juni
Ticketpreis: 150 $ (Frühbucher)/250 $
Was die Con so beliebt macht: E3 ist ein Ereignis, dass Gaming, Geekery und Hollywood kombiniert: Nicht nur einige der größten Namen der Gaming-Welt, sondern der gesamten Entertainmentbranche wurden hier bereits gesichtet. Jedes Jahr gibt es zudem massig riesige Ankündigungen. Auch wenn man sie selbst nicht besucht, hört man wahrscheinlich online davon, was auf der E3 passiert.
Gamescom
Noch größer als die E3 ist die deutsche Gamescom. Diese jährliche Convention ist als das weltweit größte Gaming Event bekannt und verzeichnet jedes Jahr mehr als eine Viertel Million Besucher.
Gamer aus ganz Europa (und darüber hinaus) treffen sich hier, um die heißesten Spiele bei Bier und Currywurst zu genießen.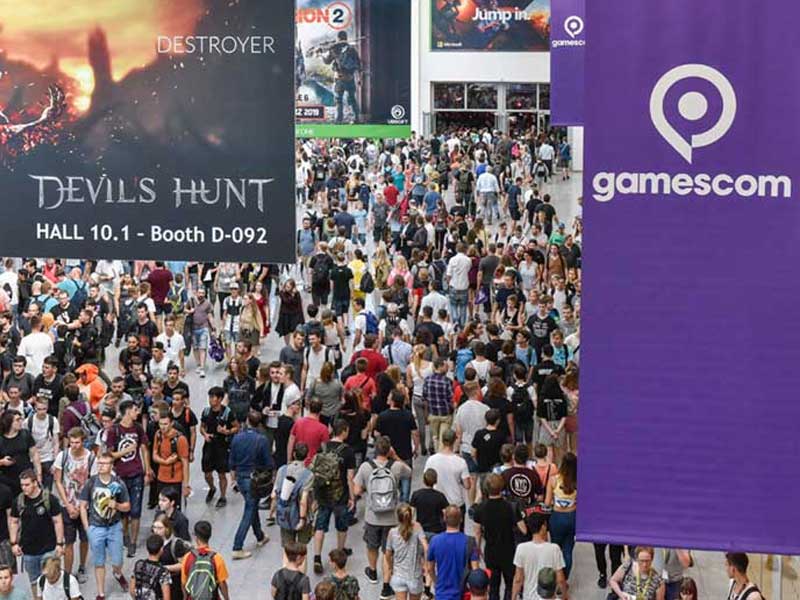 Offizielle Seite: www.gamescom.global/
Ort: Köln, Deutschland
Zeitpunkt: Jährlich im August
Ticketpreis: 12,50 - 16 Euro pro Tag
Was die Con so beliebt macht: Die Gamescom ist günstiger und legt einen größeren Fokus auf PC-Spiele. Auch die Tatsache, dass sie speziell auf Verbraucher ausgelegt ist, macht sie besonders beliebt.
PAX West
Die Penny Arcade Expo (PAX) Events sind eine Reihe von Gaming Conventions, die über die ganze Welt verstreut sind. PAX West findet in den USA statt und ist die wohl bekannteste aller PAX-Veranstaltungen.
Die erste PAX West fand im Jahr 2004 statt. Seitdem haben die Veranstalter (die auch hinter dem Penny Arcade Webcomic stecken) mehr als ein Jahrzehnt damit verbracht, ein fantastisches Event für Gamer und Geeks zu schaffen
Offizielle Seite: west.paxsite.com/
Ort: Seattle, Washington (USA)
Zeitpunkt: Ende August bis Anfang September jedes Jahres
Ticketpreis: 50 $ für die Tageskarte
Was die Con so beliebt macht: PAX West bietet viele große Gaming-Enthüllungen (einschließlich Updates zu Spielen, die auf der Gamescom und E3 vorgestellt wurden), Vorträge von Entwicklern und Wettbewerbe. Dan "MrPointyHead" Maher, der Chefredakteur von "Explosive Alan" sagt, dass man mit der PAX West gar nicht daneben liegen kann, wenn man Lust auf etwas "besonders Extravagantes" hat.
EGX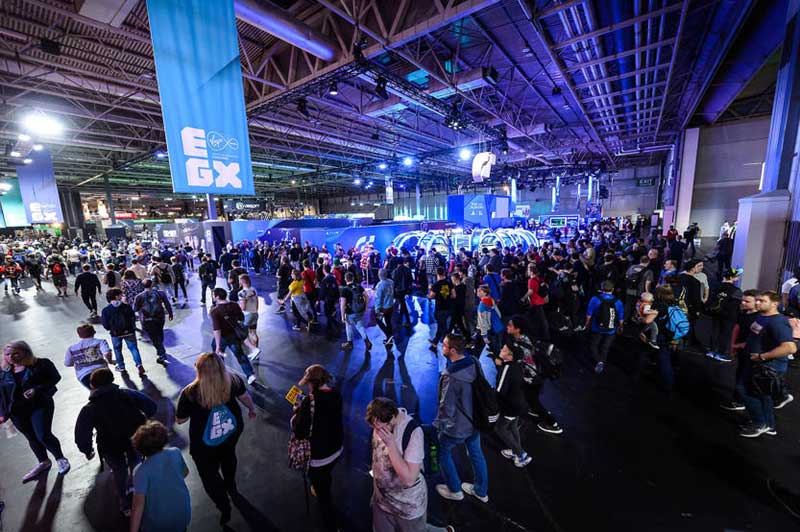 Die ehemals als Eurogamer Expo bekannte EGX wird von Eurogamer veranstaltet, einer europäischen Videospiel-Publikation, die seit über einem Jahrzehnt über Gaming-Conventions berichtet. Aus diesem Grund wissen diese Leute besonders gut, was für eine gute Gaming-Party funktioniert und was nicht.
Außerdem gibt es noch EGX Rezzed, eine mehr auf Indie-Games fokussierte Games-Convention, die jedes Jahr in London stattfindet.
Official site: www.egx.net/egx
Ort: Birmingham, England
Zeitpunkt: Jeden September
Ticketpreis: 15 - 70 £
Was die Con so beliebt macht: Dan Maher: "Wenn man hauptsächlich an den größten, aktuellsten Neuigkeiten interessiert ist, bietet EGX zusätzlich informative Entwickler-Sessions, eSports-Wettbewerbe, eine Jobmesse, Retro-Gaming,
Cosplay und Tabletop-Gaming." Diese Kombination ist perfekt für große Neuerscheinungen und vor allem Spaß mit der Community.
ESL One
Die ESL One Events sind eine Reihe von eSports-Wettbewerben, die weltweit stattfinden. ESL One New York konzentriert sich ganz auf Counter-Strike: Global Offensive, während man bei der ESL One Köln Spielern bei Dota 2 zuschauen kann.
Außerdem gibt es ESL One Ereignisse in Kattowitz, Birmingham und Belo Horizonte.
Official site: en.esl-one.com/
Zeitpunkt: Das ganze Jahr über
Ticketpreis: 29 $ - 169 $
Was die Con so beliebt macht: Adam Stevens, Eigentümer von BC-GB Esports, beschreibt die Atmosphäre bei ESL One als "elektrisch". Die Tatsache, dass man einige der talentiertesten CS:GO und Dota 2 Spieler live beobachten kann, lockt besonders viele Spieler an.
DreamHack
DreamHack ist eine weitere Reihe von Events, die sich auf eSports konzentrieren und Wettbewerbe für Spiele wie Hearthstone: Heroes of Warcraft, Dota 2, Counter-Strike: Global Offensive und StarCraft 2 anbieten.
Mehr als 300.000 Besucher strömen jedes Jahr zu DreamHack Events weltweit, und noch viele mehr schalten über die Live Streams auf Plattformen wie Twitch und YouTube zu.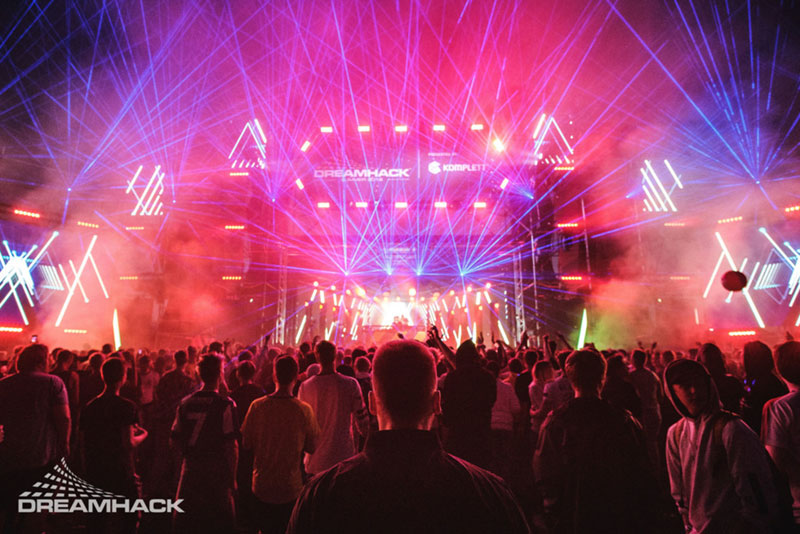 More than 300,000 people attend DreamHack events around the world each year, and many more choose to tune in to live streams on platforms such as Twitch and YouTube.
Offizielle Seite: dreamhack.com/
Ort: USA, Schweden, Spanien, Kanada
Zeitpunkt: Das ganze Jahr über
Ticketpreis: 30 - 535 $
Was die Con so beliebt macht: Wie Adam Stevens erwähnte, können eSports wirklich spannend sein. Es ist faszinierend, zuzusehen, wie dein Lieblingsteam einen Sieg erringt oder ein Underdog einen beliebten Spieler erledigt. DreamHack ermöglicht Fans, dies aus der ersten Reihe zu erleben.
Insomnia Gaming Festival
Das Insomnia Gaming Festival nahm seine Anfänge als LAN-Spielwettbewerb, in dem Gamer gegeneinander antraten. In letzter Zeit hat es sich zu einer unterhaltsamen Spiele-Convention entwickelt. Das beliebte Ereignis ist stolz darauf, den Titel des größten Gaming-Festivals Großbritanniens zu tragen.
Offizielle Seite: insomniagamingfestival.com/
Ort: Birmingham, England
Zeitpunkt: Das ganze Jahr über
Ticketpreis: Verschiedene Preise
Was die Con so beliebt macht: Dan Maher erklärt, dass das Insomnia Gaming Festival "eine riesige Auswahl von Aktivitäten bietet, von denen man sich unterhalten lassen kann", sowie "eine Gelegenheit, neue Freundschaften, Interessen und sogar Jobs zu erkunden".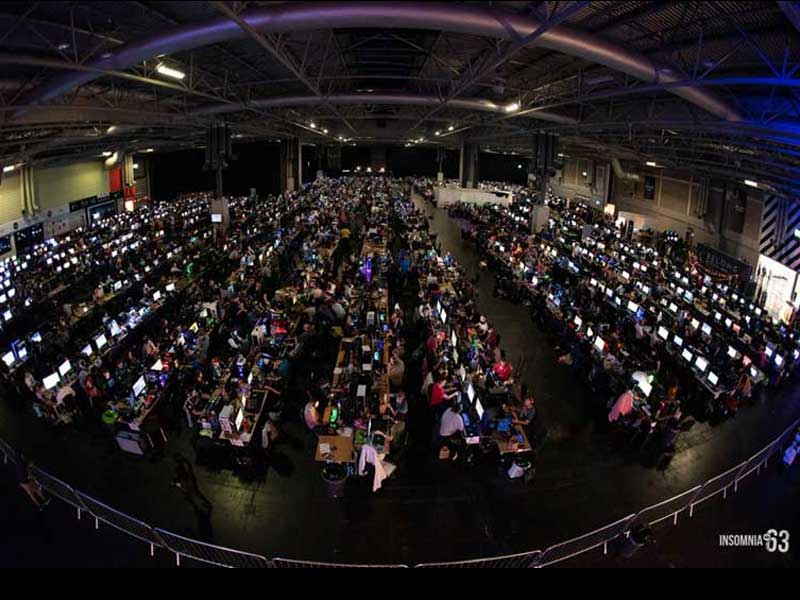 PlayStation Experience
Sony kündet seine großen Neuerungen meist auf der E3 an, doch seit einigen Jahren veranstaltet das Unternehmen auch ein speziell auf die PlayStation konzentriertes Ereignis namens PlayStation Experience. Dieses Event am Ende des
Jahres wird von Sony genutzt, um überraschende Ankündigungen zu machen, einschließlich Updates zu den größten Serien des Unternehmens, wie z. B. The Last of Us.
Offizielle Seite: www.playstation.com/
Ort: Las Vegas, Nevada (USA)
Zeitpunkt: Jeden Dezember
Ticketpreis: 65 - 75 $
Was die Con so beliebt macht: PlayStation Experience bietet eine Menge für PlayStation Fans, einschließlich die Chance, die aktuellsten und besten PlayStation Spiele zu testen, Interviews mit den Entwicklern (und die Möglichkeit, diese zu treffen) sowie alle Ankündigungen von Sony zu hören. Außerdem bietet das Event allen Fans der Sony-Konsolen die Möglichkeit, einander zu treffen und sich über ihre Lieblingsspiele, -charaktere und mehr auszutauschen.
Best Anime Conventions
Anime Expo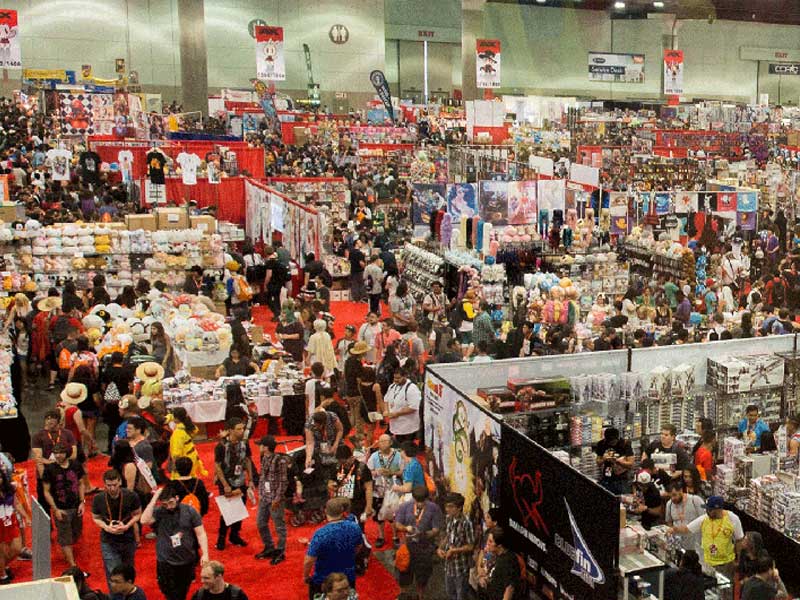 Anime Expo (also known as AX) boasts itself as the largest anime convention in North America. With approximately 100,000 anime enthusiasts attending the event each year, including cosplayers and casual fans alike, we think that it has more than earned that right.
Offizielle Seite: www.anime-expo.org/
Ort: Los Angeles, Kalifornien (USA)
Ticketpreis: 35 - 80 $
Zeitpunkt: Jeden Juli
Was die Con so beliebt macht: Einige mögen Anime als Nischen-Hobby sehen, da sie meist in japanischer Sprache geschaffen werden und es daher im Westen nicht leicht haben. Aber die Anime Expo in LA lacht nur darüber und bietet Anime-Fans die Gelegenheit, ihrem Hobby zu frönen, auch wenn viele Mainstream-Kritiker es nicht verstehen.
Otakon
Otakon ist für die US-Ostküste, was die Anime Expo für die Westküste ist. Das dreitägige Ereignis findet seit 1994 statt und bietet Anime-Fans die Chance, ihre Liebe für Anime und alles, was mit asiatischer Popkultur zu tun hat, zu teilen, einschließlich Videospiele, Manga, Musik und Filme.
Offizielle Seite: www.otakon.com/
Location: Washington, D.C. (USA)
Ticketpreis:Unterschiedlich, ca. 75 $
Zeitpunkt: Jeden August/September
Was die Con so beliebt macht: Otakon bietet eine große Auswahl mit Anime verbundener Aktivitäten, einschließlich Vorstellungen von Retro-Animes aus den 80ern und 90ern, Live-Musikvorstellungen von Titelsongs und Soundtracks sowie Cosplay- und Tanzevents.
Jump Festa
Seit 1999 veranstaltet der Herausgeber der Jump-Anthologie die Jump Festa, eine Party, auf der alles gefeiert wird, was mit Anime und Manga zu tun hat.
Das Event ist besonders für seine Ankündigungen aus der Anime-Welt bekannt, aber auch Videospiele und Filme sind vertreten.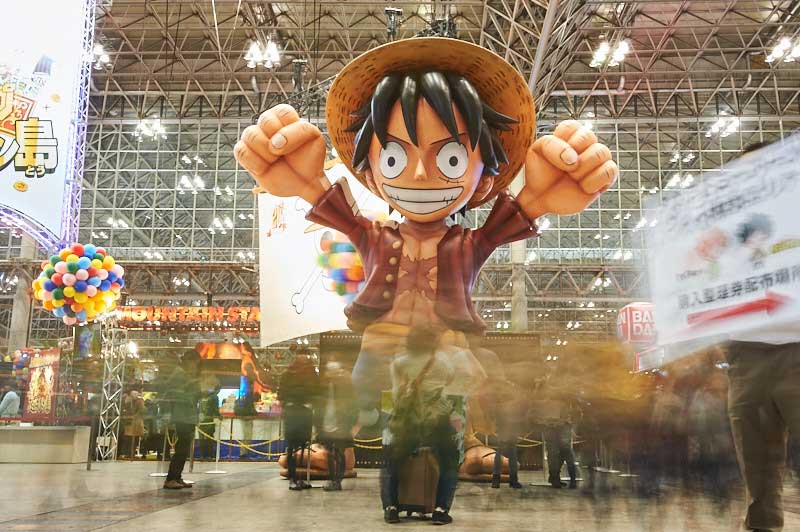 Official site: www.jumpfesta.com/
Ort: Tokio, Japan
Ticketpreis: Kostenloser Eintritt
Zeitpunkt: Dritte Dezemberwoche
Was die Con so beliebt macht: Wie erwähnt werden auf der Jump Festa häufig wichtige Anime-Ankündigungen kundgegeben, einschließlich Infos zu neuen Staffeln oder Varianten beliebter Serien wie Tokyo Ghoul, One Piece, Dragon Ball und My Hero Academia.
AnimeJapan
Noch größer ist AnimeJapan, welche das größte Anime-Event Japans ist, obwohl es erst seit 2014 stattfindet.
AnimeJapan entstand aus dem Zusammenschluss der Tokyo International Anime Fair und der Anime Contents Expo. Gemeinsam ist es den beiden Teams gelungen, ein überwältigendes jährliches Anime-Event zu schaffen.
Official site: www.anime-japan.jp
Ort: Tokio, Japan
Ticketpreis: 16 - 500 $
Zeitpunkt: Jeden März
Was die Con so beliebt macht: AnimeJapan zieht einige der größten Namen der Anime-Industrie an, einschließlich japanischer und internationaler Unternehmen. Es werden Vorführungen, Bühnenshows, Sonderverkäufe und andere Events angeboten, die besonders für Fans von Mainstream-Anime interessant sind.
A-Kon
Die Ost- und Westküste der USA haben ihre eigenen Anime-Conventions, also ist es nur fair, dass auch der Süden der USA eine hat! A-Kon ist die älteste Anime-Convention Nordamerikas und zieht jährlich über 30.000 Besucher an.
Offizielle Seite: a-kon.com/
Ort: Fort Worth, Texas (USA)
Ticketpreis: 25 - 55 $
Zeitpunkt: Erste Juniwoche jedes Jahres
Was die Con so beliebt macht: Der Süden der USA bietet nicht besonders viele Conventions dieser Art, deswegen ist die A-Kon etwas ganz Besonderes. Die Teilnehmer schätzen es ganz besonders, aufstrebende Künstler in der "Artist Alley" kennen zu lernen. Und dann sind da noch die Community-Events wie die Quiz-Nacht, Panel-Diskussionen, Cosplay-Veranstaltungen, Singalongs und vieles mehr.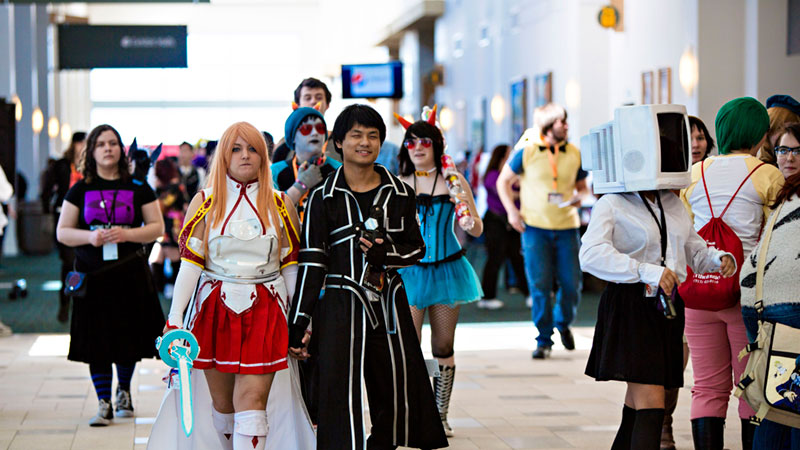 Japan Expo
Keine Chance, nach Japan oder in die USA zu reisen? Dann passt dir vielleicht die Japan Expo in Paris, welche die größte ihrer Art außerhalb Japans ist. Dieses riesige Event dauert vier Tage und wird jährlich von fast einer Viertelmillion Menschen besucht.
Offizielle Seite: www.japan-expo-paris.com/
Ort: Paris, Frankreich
Ticketpreis: 14 - 300 Euro
Zeitpunkt: Jeden Juli
Was die Con so beliebt macht:Europäische Anime-Fans, die es sich nicht leisten können, in die USA oder nach Japan zu reisen, besuchen oft jährlich die Japan Expo. Sie wird von Ikonen japanischer Pop-Kultur besucht, einschließlich Künstler und Spielentwickler. Außerdem gibt es Kurse dazu, wie man seine Animationsfähigkeiten verbessert und auch Fan-Fokussierte Events wie Panel-Diskussionen.
Best Comic Book Conventions
San Diego Comic-Con
Die 1970 gegründete San Diego Comic-Con zieht heute jährlich mehr als 150.000 Teilnehmer an und ist eine Koryphäe der Gaming-, Comic-, Film- und Fernsehwelt. Häufig gibt es eine lange Warteliste für Karten, so beliebt ist die SDCC.
Ort: San Diego, Kalifornien
Ticketpreis: 42 - 276 $
Zeitpunkt: Jeden Juli
Was die Con so beliebt macht: Jedes Jahr gibt es auf der SDCC große Ankündigungen, sowie Panel-Diskussionen mit den größten Stars des Business. Auf der SDCC 2018 gab es zum Beispiel Diskussionen mit den Schauspielern von Doctor Who, The Walking Dead, Star Trek: Discovery und vielen, vielen mehr.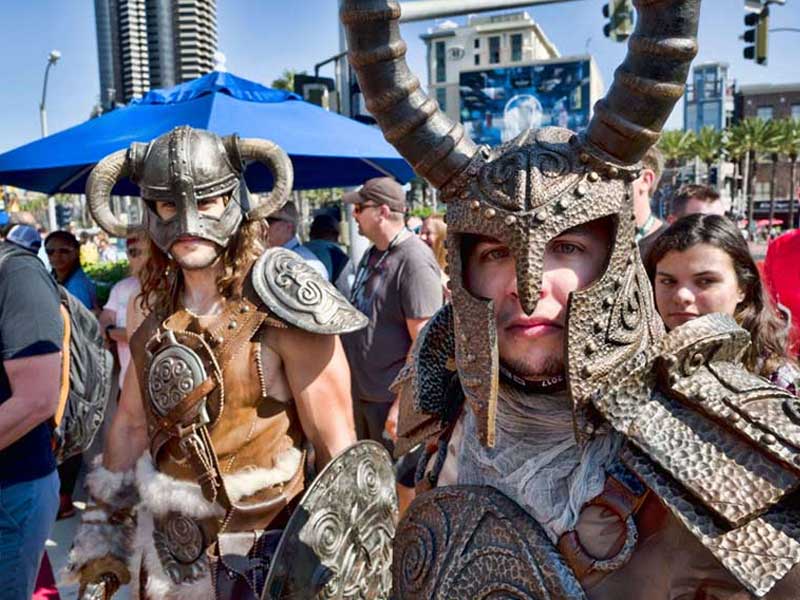 Comiket
Comiket (or Comic Market) is a "dōjinshi" (self-published works) fair that takes place twice a year in Japan. Despite this sales event starting as a grassroots effort some years ago, it has absolutely ballooned and over 500,000 people attend it each year.
Official site: www.comiket.co.jp/
Ort: Tokio, Japan
Ticketpreis: 7 $
Zeitpunkt: August und Dezember
Was die Con so beliebt macht: Ein Besuch auf der Comiket bietet die Chance, wenig bekannte Werke von Künstlern zu entdecken, die noch keine riesige Fanbasis haben. Wer hat schon keine Lust darauf, einen bekannten Künstler zu entdecken, bevor der Mainstream ihn entdeckt?
MCM Comic Con
Die MCM Comic Con ist Englands Antwort auf die SDCC. Sie findet zwei Mal im Jahr statt und bietet eine gute Mischung aus britischer Popkultur sowie der japanischen Popkultur, die Fans in ganz Europa hat.
Offizielle Seite: www.mcmcomiccon.com/
Ort: London, UK
Zeitpunkt: Mai und Oktober
Ticketpreis: 17 - 150 £
Was die Con so beliebt macht: Dan Maher schätzt dieses Event sehr, da es alle wichtigen geekigen Stellen anspricht. Maher ist ein Fan von Hybrid-Cons und meint "man kann sicher sein, dass jemand, der Videospiele mag, auch Comics, Anime, Sci-Fi, Filme, Cosplay, Musik oder sogar alles davon liebt".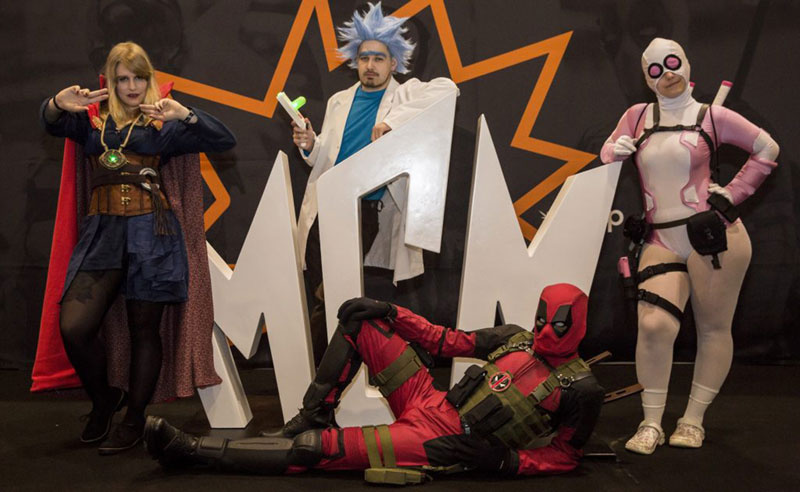 New York Comic Con
Die erstmals 2006 organisierte New York Comic Con ist die größte Comic Convention an der amerikanischen Ostküste. Sie wird jährlich von fast 200.000 Teilnehmern besucht – das sind eine Menge Leute, die sich treffen, um über Sci-Fi und Co. zu sprechen.
Offizielle Seite: www.newyorkcomiccon.com/
Ort: New York, USA
Zeitpunkt: Jeden Oktober
Ticketpreis: 12,50 - 50 $
Was die Con so beliebt macht: Die NYCC zieht einige der größten Namen der Industrie an. Auf der Gästeliste 2018 standen Lois Lane persönlich (Teri Hatcher), Neil DeGrasse Tyson, Danai Gurira von Black Panther und The Walking Dead, Jason Momoa aus Aquaman und Game of Thrones sowie viele mehr.
Fan Expo Canada
Auch im weißen Norden gibt es eine eigene Comic Convention, nämlich die Fan Expo Canada. Mit 130.000 Besuchern jährlich ist es klar, dass auch die Kanadier etwas für Comics über haben.
Offizielle Seite: www.fanexpocanada.com/
Ort: Toronto, Kanada
Zeitpunkt: August bis September
Ticketpreis: 25 - 569 $
Was die Con so beliebt macht: Die Fan Expo ist eine wichtige Haltestelle für kanadische Promo-Touren, die bereits von großen Namen wie Jason Momoa, Michael J. Fox von "Zurück in die Zukunft" und sogar den Schauspielern von Xena: Warrior Princess besucht wurde.
Oz Comic-Con
Nein, keine Convention für Fans des Zauberers von Oz! Die Oz Comic-Con ist die "Premium" Comic-Convention Australiens. Australische Comicfans treffen sich hier, um über Cosplay, Comics, Video und Anime zu diskutieren.
Das Ereignis findet außerdem in unterschiedlichen Städten im Land statt, sodass man nicht unbedingt weit reisen muss, egal, wo man in Australien ist.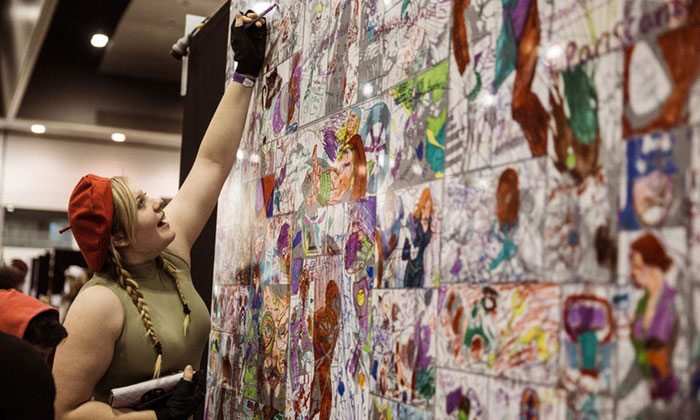 Offizielle Seite: ozcomiccon.com/
Ort: Brisbane, Melbourne, and Sydney Australia
Zeitpunkt: Das ganze Jahr über (je nach Ort)
Ticketpreis: 20 - 65 $
Was die Con so beliebt macht: Auch diese Con ist eine wichtige Marketing-Anlaufstelle großer, internationaler Comicproduktionen (einschließlich Blockbuster-Comicfilme und Fernsehshows) und wird daher garantiert von Giganten der Industrie besucht – was wiederum viele Besucher anzieht.
Raid: Shadow Legends
Sammle über 400 Champions & kämpfe um Ruhm